Rockville RVD12HD-BK 12" Black Flip Down Monitor With USB, SD, DVD Player and Video Games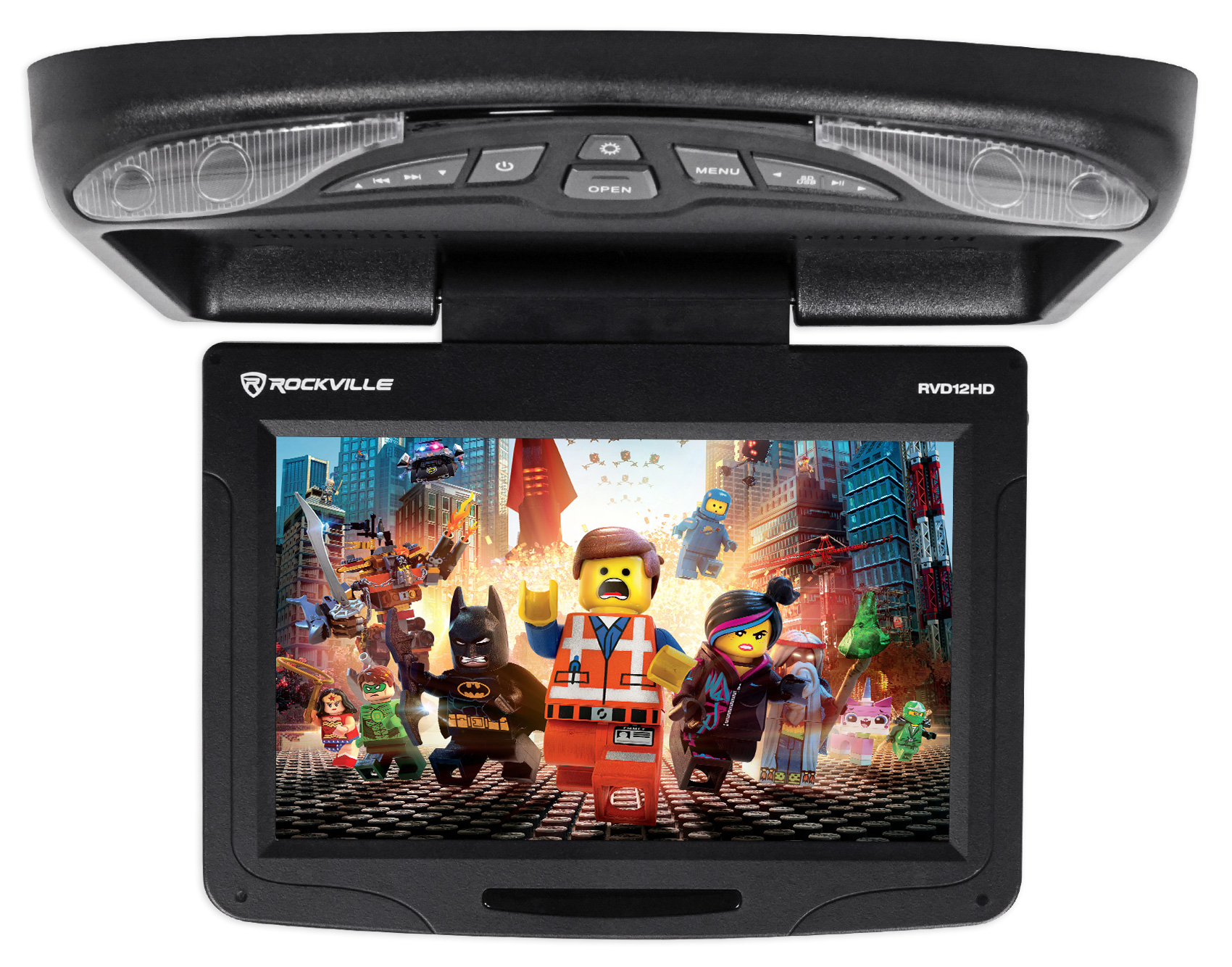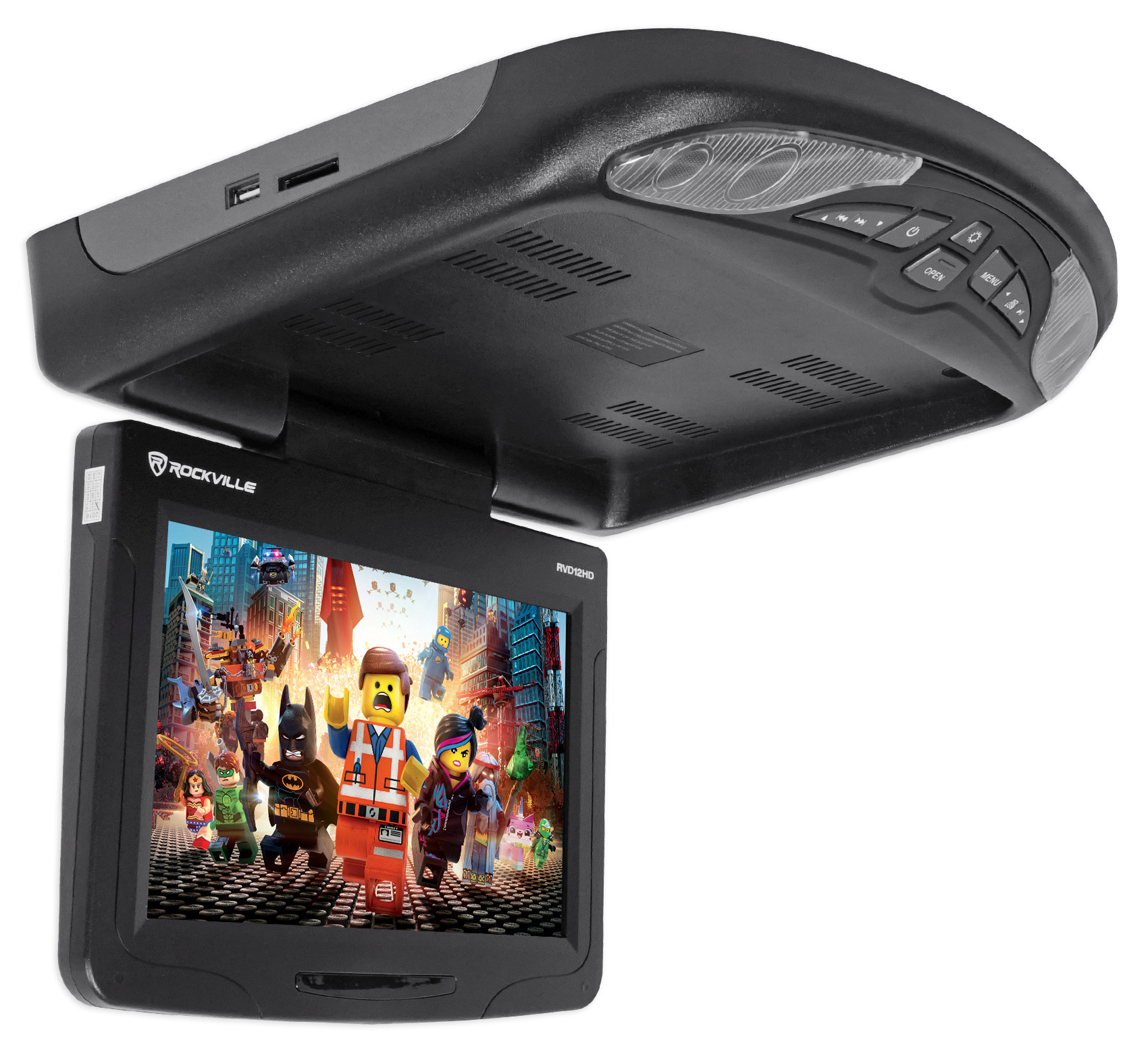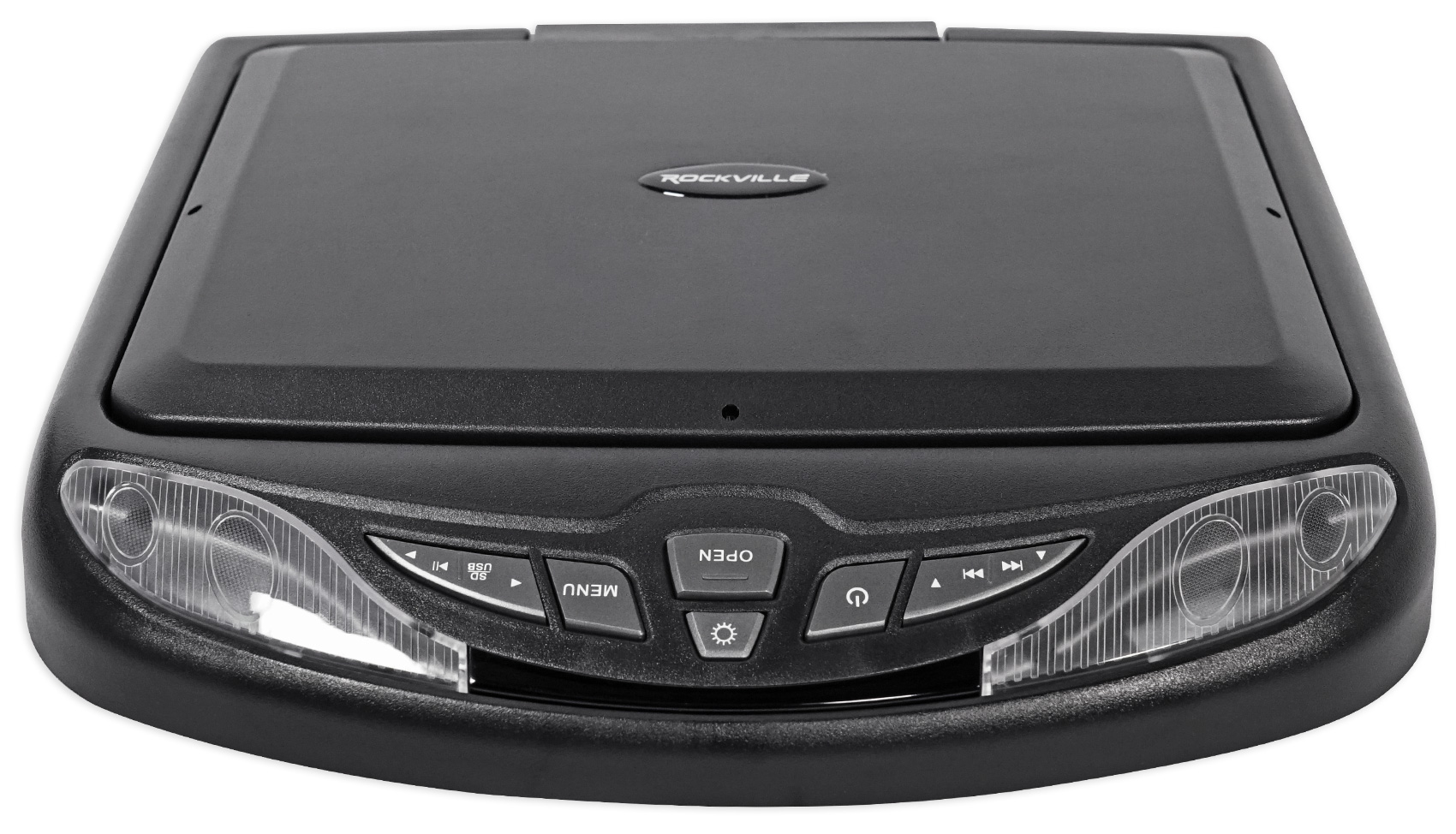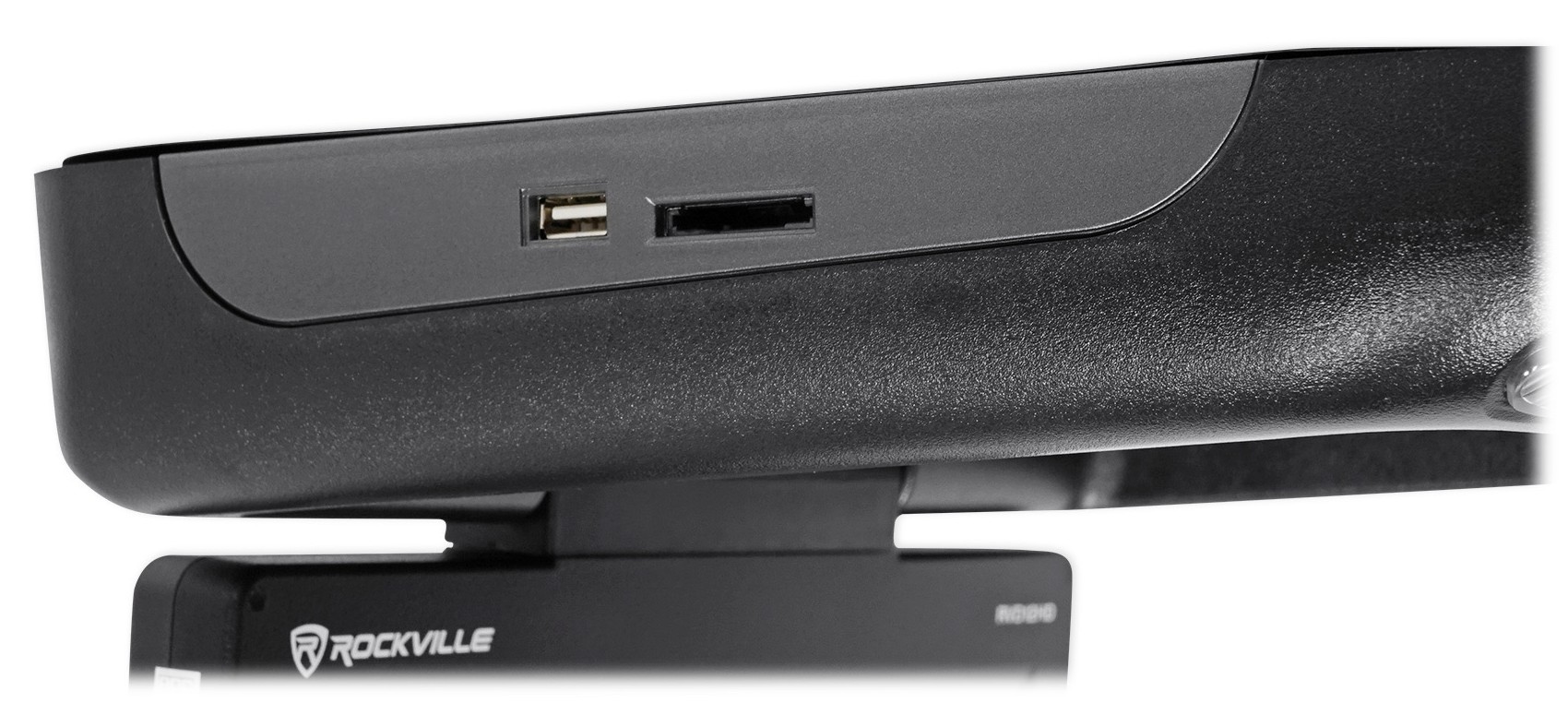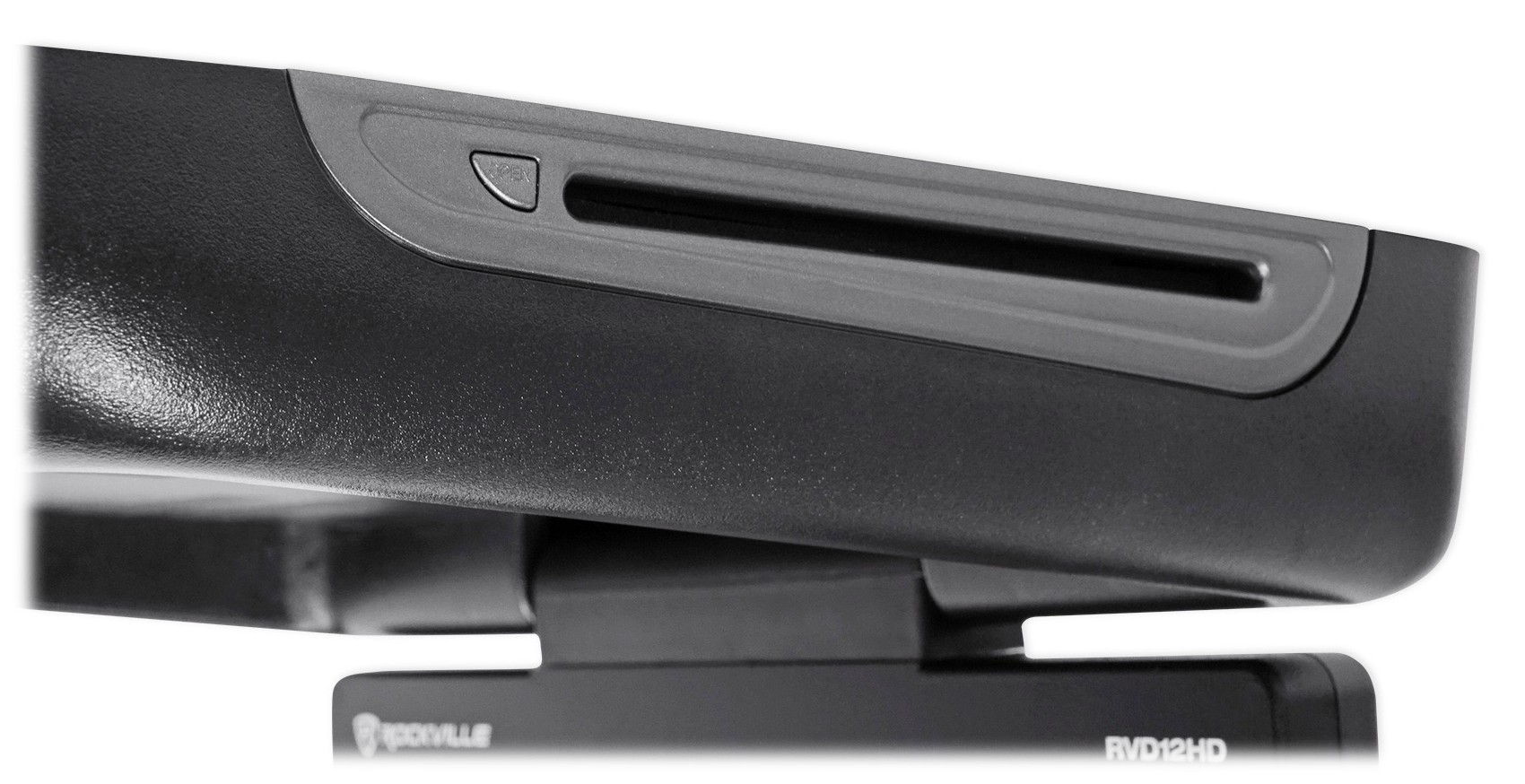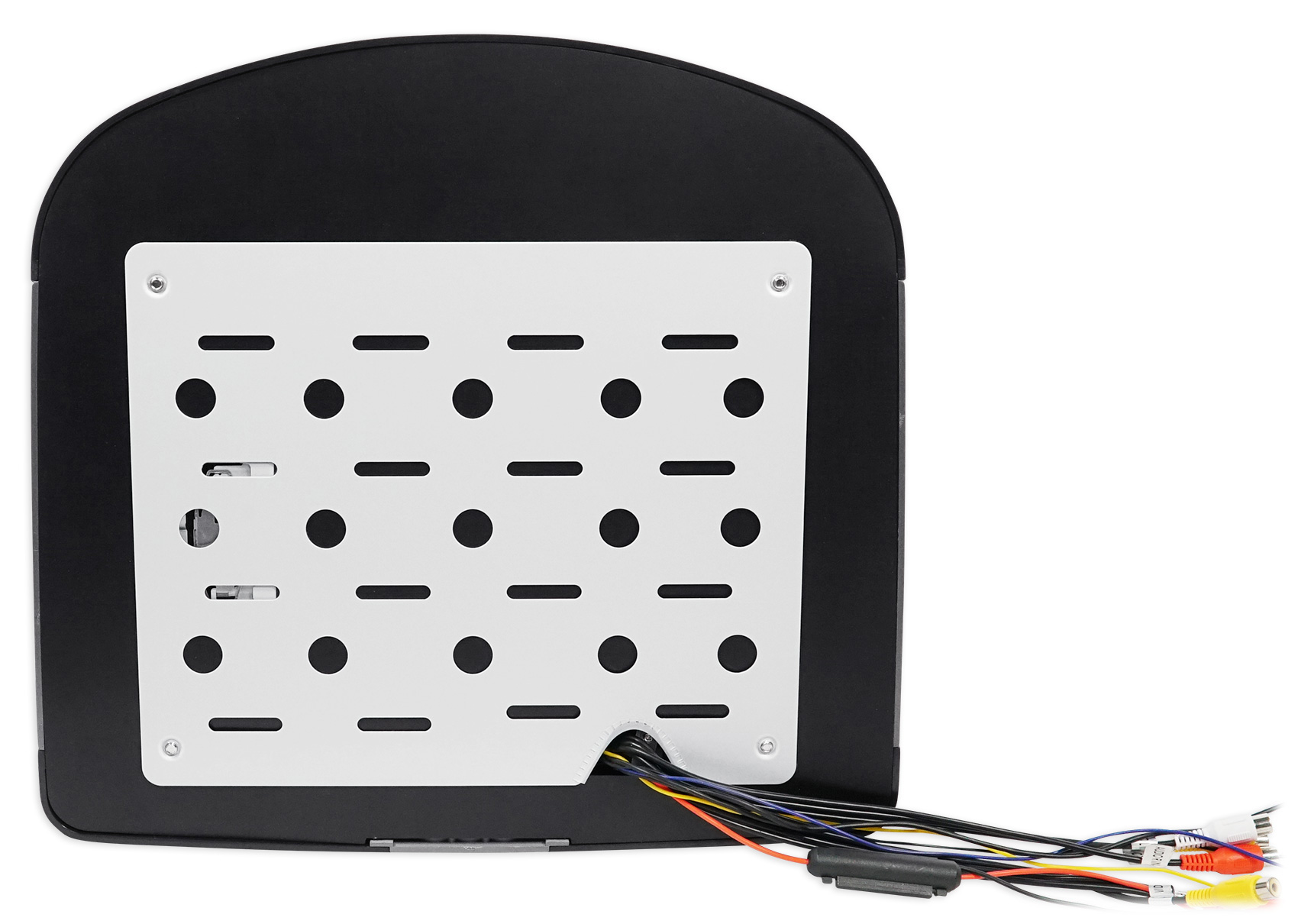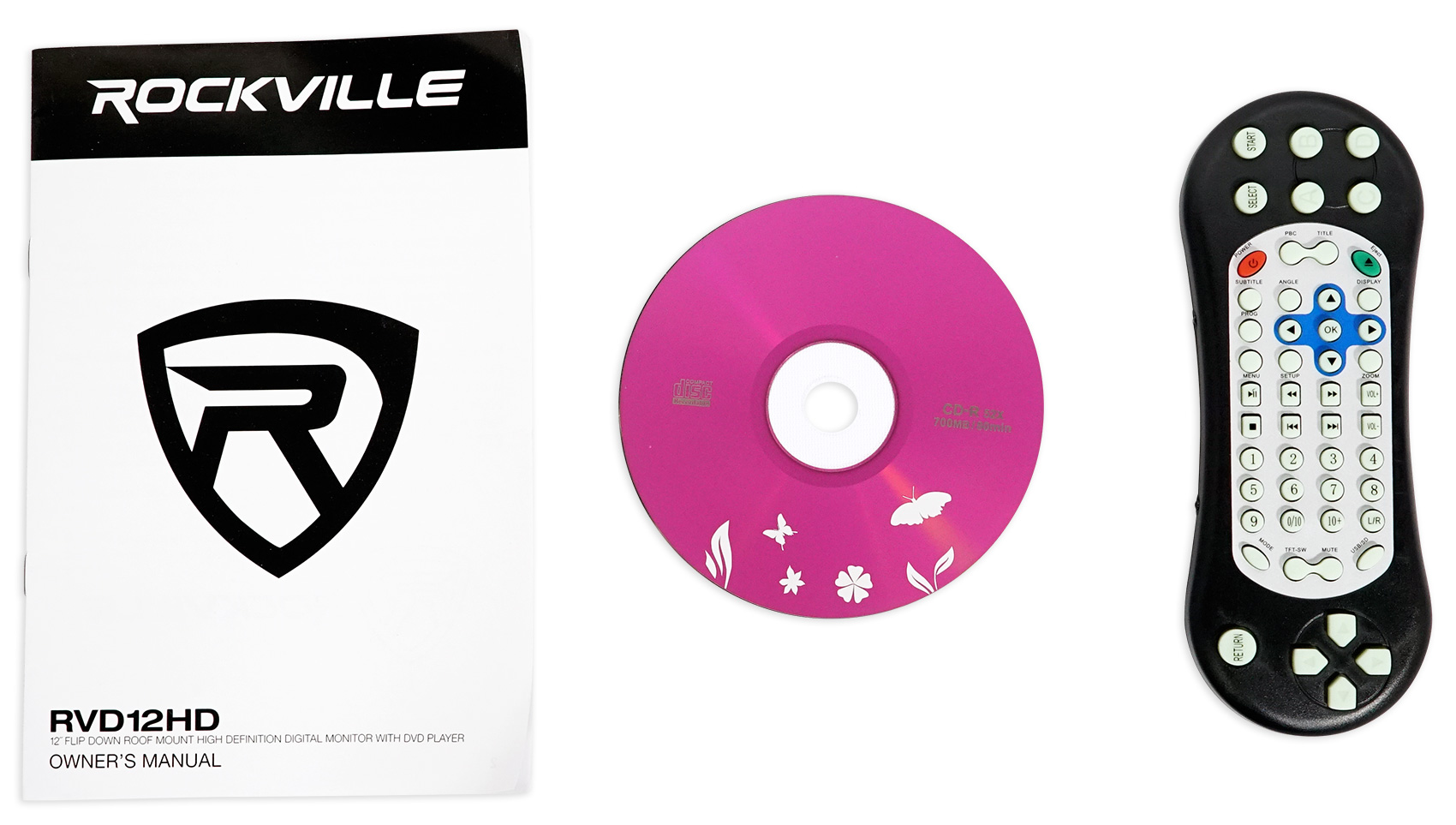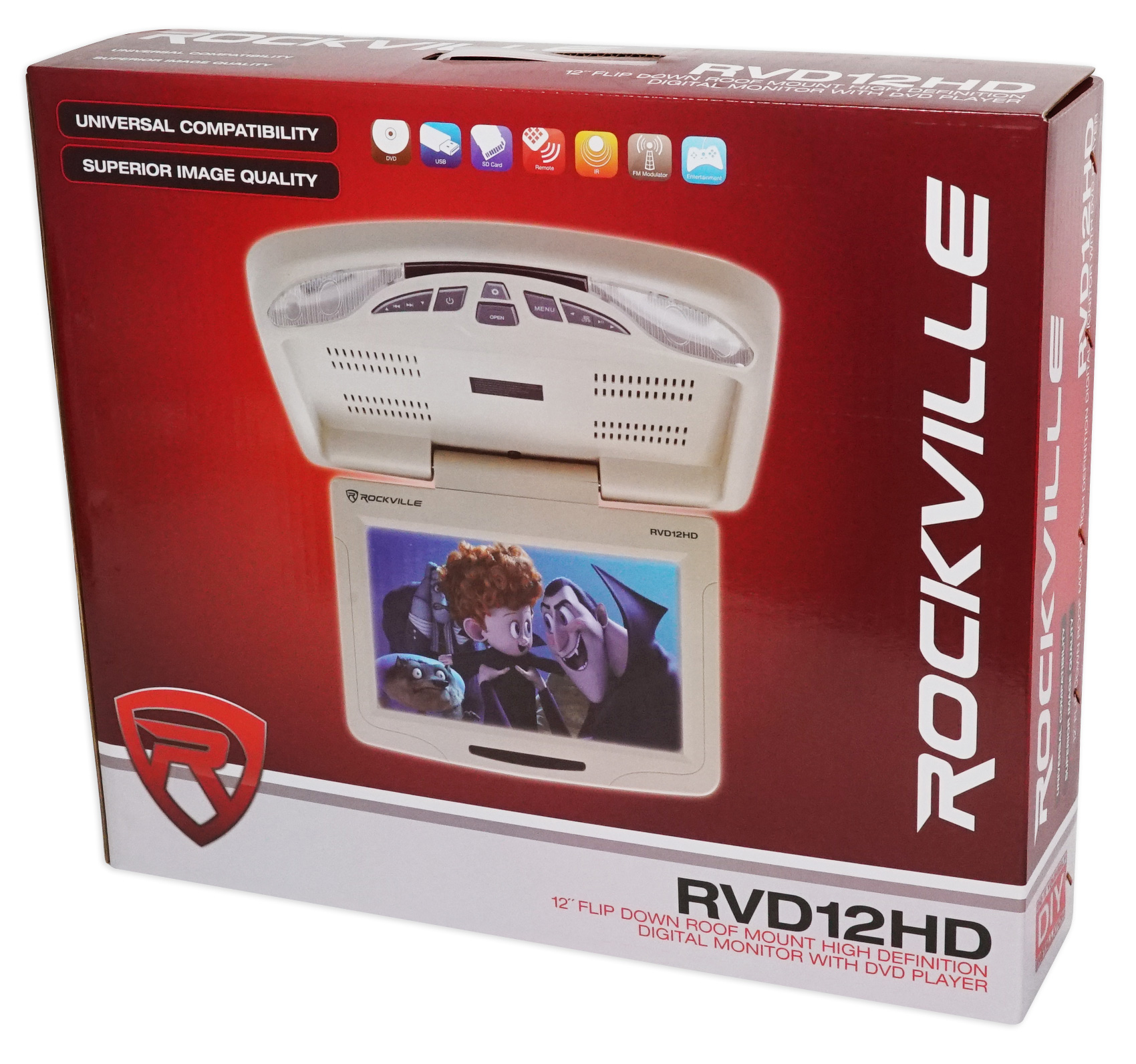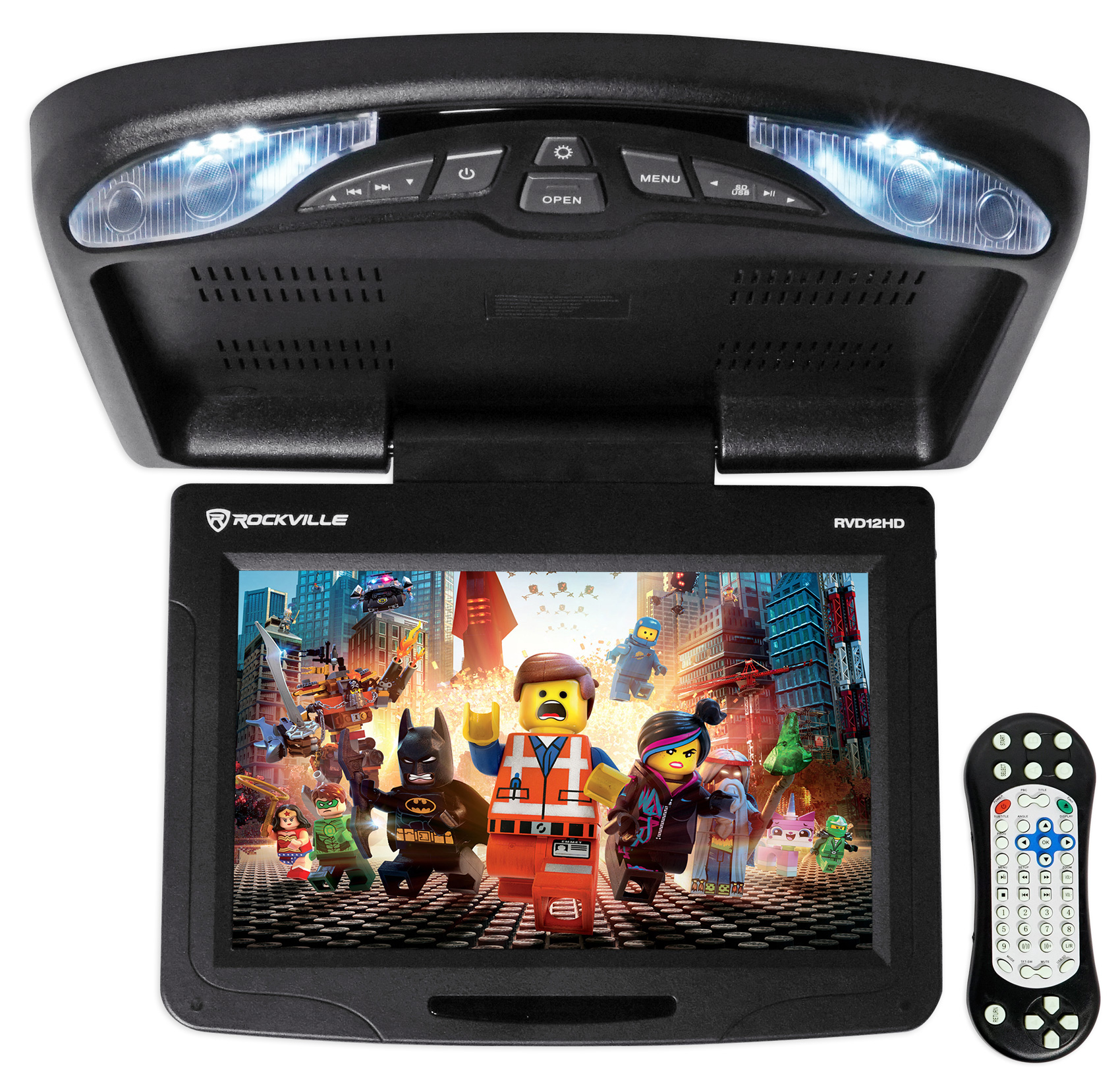 Click Thumbnails to Enlarge
Condition: BRAND NEW IN ORIGINAL PACKAGING
Warranty: 1 YEAR AUDIOSAVINGS
Video ofRVD12HD-BK:
Includes:
Flip Down monitor with built-in DVD

Multi-function remote and game controller

Installation hardware

Installation wire harness

Owner manual


Warranty card
True All In One Monitor
The Rockville RVD12HD is called a true all in one because the DVD player and a load of entertainment options are all included in one chassis. This all in one monitor is easy to install since you do not have to wire a separate DVD player. The built in DVD player will play all your favorite files including DVD/VCD/MP3/WMA/MP3/MP4/CD.

USB input
The USB input will allow you to connect an MP3 player, or you can store all of your media on a USB thumb drive and play it through this monitor.

SD Card Slot
The SD card slot will allow you to store media on a standard memory card, and play it back through this monitor. You can play back audio or video files stored on the SD through this monitor.

(2) A/V Inputs & A/V Output
This monitor has (2) audio/video inputs and (1) audio/video output. This makes the system very expandable. You can connect other source units to play back through the monitor. You can also connect additional monitors to the A/V output and replicate what is playing on this screen to the monitor that is connected.

Games
Included in the box is a game disc with 300 games included so that you can keep your rear seat passengers entertained. You also get a multi-function remote and game controller in the box.

Built In FM Transmitter
This has a built in FM Modulator so you can transmit the audio signal through your car stereo wirelessly with no extra wiring!

Built In IR Transmitter
This monitor has a built in IR Transmitter so you can transmit the audio signal to any of the optional wireless headphones available in our store.

Built In Speakers
This model includes built in speakers that actually sound surprisingly loud! There are 3 audio options on this unit. You can use the built in speakers, you can use your car speakers through the FM Transmitter, or you can use wireless headphones through the built in IR transmitter.

Built In Dome Lights
This has (2) built in LED dome lights. You can wire the dome lights to automatically activate when you open your car door. You can also turn them on manually.

Amazing Picture Quality
This uses a digital panel. Digital panels are the best quality on the market. This monitor has a high resolution of 800 x 480. This has a backlit display for extra brightness. The monitor will look good during day or night. You can adjust all the color and picture settings (color, contrast, brightness, etc).

1 Year Warranty
Rockville is so confident in their products that there is a full 1 year warranty on this!

Features:
Rockville RVD12HD-BK 12" Black Flip Down Monitor DVD Player, with USB and Video Games

Screen Size: 12"

Digital Panel with High Resolution: 800 x 480

Built-in slot-loading DVD player with anti-skip mechanism

Disk slot supports DVD, CD, MP3, VCD, CD-R, CD-RW, MP4, DVD-RW, DVD-R, DVD+RW, DVD-9

Overhead console with two super bright LED dome lights

Native 32 bit game disc included (300 games)

Dual channel IR transmitter for wireless headphone connection

Multi-language OSD (On-Screen Display)

USB 2.0 input (Up to 16GB)

SD Card slot (up to 16GB)

USB and SD supports: MPEG4, VOB, DIVX, AVI, MPG, DAT, MP3, MP4, JPEG, WMV, WMA

Types of supported cards: SD, MMC, MS Card, U plate

(2) A/V inputs

(1) A/V Output

Built-in wireless FM Transmitter with new technology using 87.7-107.9 Mhz

Multi system: NTSC/PAL auto switching

16:9 (Wide Screen) Aspect Ratio

Slim and compact design for a sleek looking installation

Backlight: LED

Compatible Media Types: MPEG4, VOB, DIVX, AVI, MPG, DAT, MP3, MP4, JPEG, WMV, WMA

Compatible Discs: DVD-RW/DVD-9/DVD+RW/DVD-R/VCD/CD/CD-R/CD-RW/MP3/MP4

Built in speakers

Power Supply: DC 12V with Built-in Noise Filter

Great for trucks, vans, SUVs, and other vehicles

Last scene memory will continue the movie after the moni

Available in Beige, Gray, and Black

Dimensions of unit: 13.46" x 12.13" x 2.48" Inches (342 x 331 x 63 MM)

Shipping Dimensions: 16.34" x 18.98" x 4.53" Inches

Unit Weight: 5.3 LBS


Shipping weight: 7.7 LBS
Container
Video Codec
Audio Codec
Resolution

AVI (.avi/.divx)

(.avi/.divx)
MP4V DIVX3.xx/4.xx/5.xx/6.xx Xvid MPEG-1
(.avi/.divx)
MP4V DIVX3.xx/4.xx/5.xx/6.xx Xvid MPEG-1
Dolby Digital(AC3) WMA/PCM/LPCM AAC-LC(2ch) MPEG-Audio (MP1/MP2/MP3)

720*480/576 (30fps)

MPG (.mpg/.mpeg)

MPEG-1/MPEG-2

Dolby Digital(AC3) LPCM MPEG-Audio (MP1/MP2/MP3)

720*480/576 (30fps)

DAT(.dat)

MPEG-1/MPEG-2

Dolby Digital(AC3) LPCM MPEG-Audio (MP1/MP2/MP3)

720*480/576 (30fps)

FLV(.flv)

H.263

LPCM/MP3 AAC-LC(2ch)


720*480/576 (30fps)

RMVB (.rm/.rmvb/.rmv/ra)

RV8/9/10

COOK AAC-LC(2ch) Dolby Digital(AC3

1280*720 (30fps)

VOB(.vob)

MPEG-1/MPEG-2

Dolby Digital(AC3)

720*480/576 (30fps)

MP4/MOV (.mp4/.mov)

MP4V

Dolby Digital(AC3) WMA/LPCM AAC-LC(2ch) MPEG-Audio (MP1/MP2/MP3)

720*480/576 (30fps)

OGG Vorbis(.ogg)

OGG

ASF(.asf)

WMA

WMA Only Support WMA7, WMA8, WMA9(CBR, VBR (Only Support 353)
| | | |
| --- | --- | --- |
| Audio | Bit Rate | Sampling Rate |
| MP3 | 16kbps ~320kbps | 8K~48KHz |
| WMA7, WMA8, WMA9(only CBR, VBR) (Only Support 353) | 16kbps ~320kbps | 8K~48KHz |
AudioSavings Return Policy:
At Audiosavings, we strongly believe in customer satisfaction and therefore offer free return shipping within 30 days of purchase on all items returned to us within the continental USA.
Prior to returning merchandise, contact us and we will give you a return authorization # and a return label.
You may return this item for a refund within 30 DAYS of purchase.
Warranty Repair/Exchange Period: 1 YEAR
If your item is defective or you want to return it for any reason within the first 30 days of when it was delivered to you; you have the following options:
We will send you a

pre-paid shipping label

to replace the item for a brand new one.
We will send you a

pre-paid shipping label

to exchange the item for another item of your choice. If the item you chose is more or less money we will work out the price difference with you.
If you are returning a working item in used condition for a refund there will be a 20% used item fee deducted from your refund. All replacements and exchanges are free.
Replacement/Processing Time:
Your replacement or refund will process within 3-5 business days of when we receive the item.
Please note items with physical damage un-related to shipping are not covered under warranty. This includes blown speakers with burned voice coils. Registered software cannot be returned.
You MUST notify us within 48 hours if you receive an item that was damaged during shipping.
Process for returning items
Please email us with your eBay user ID, Item code / model #, Condition of the item, and the reason for your return. Please also indicate whether you would like a replacement, an exchange, or a refund. We will supply you with a reference number (RMA #) to put on the package which will ensure quick processing of your return. All returns require a RMA# to be returned back to our facility.