Rockville RWM80U Dual UHF Headset & Guitar Wireless Microphone System with LCD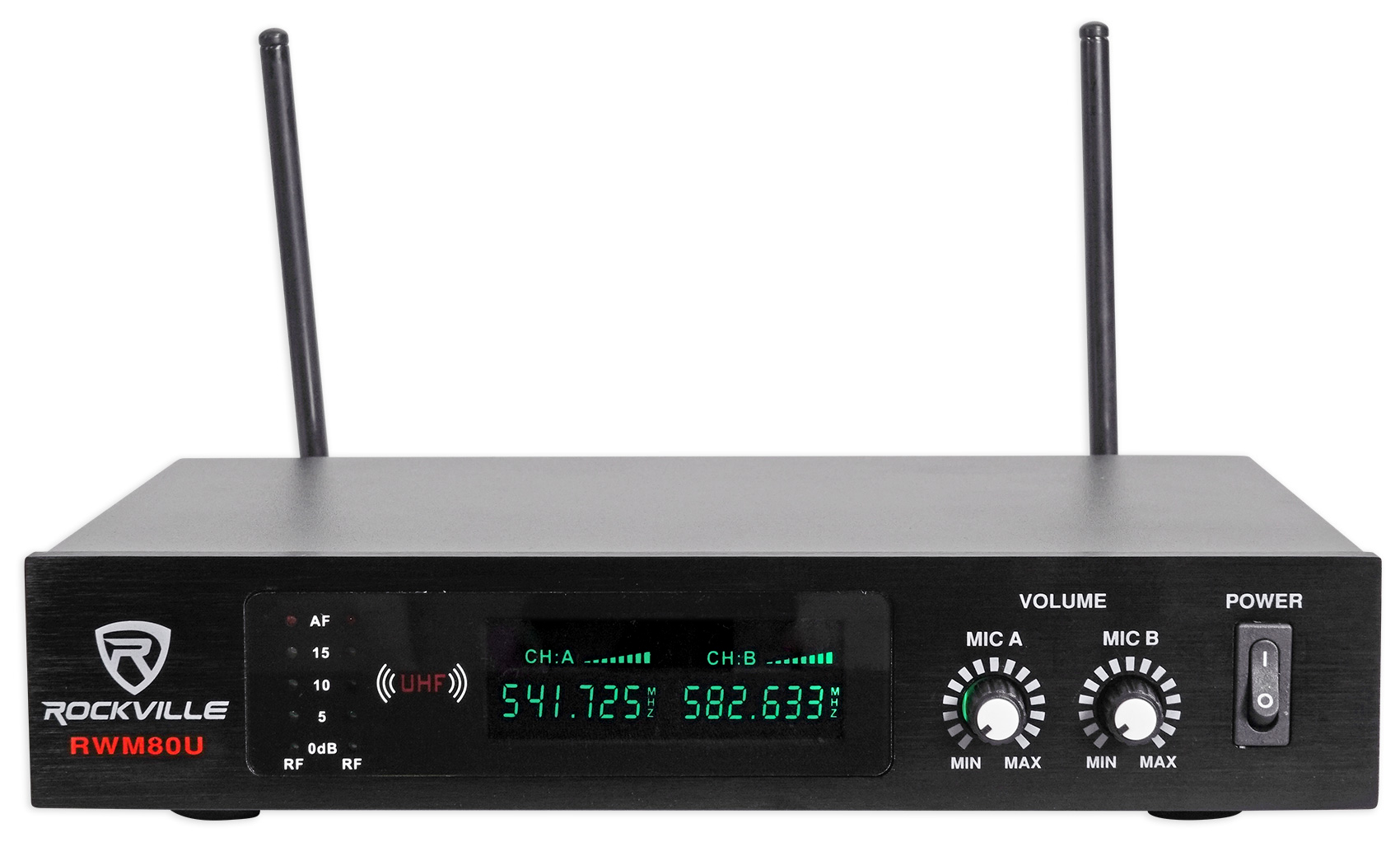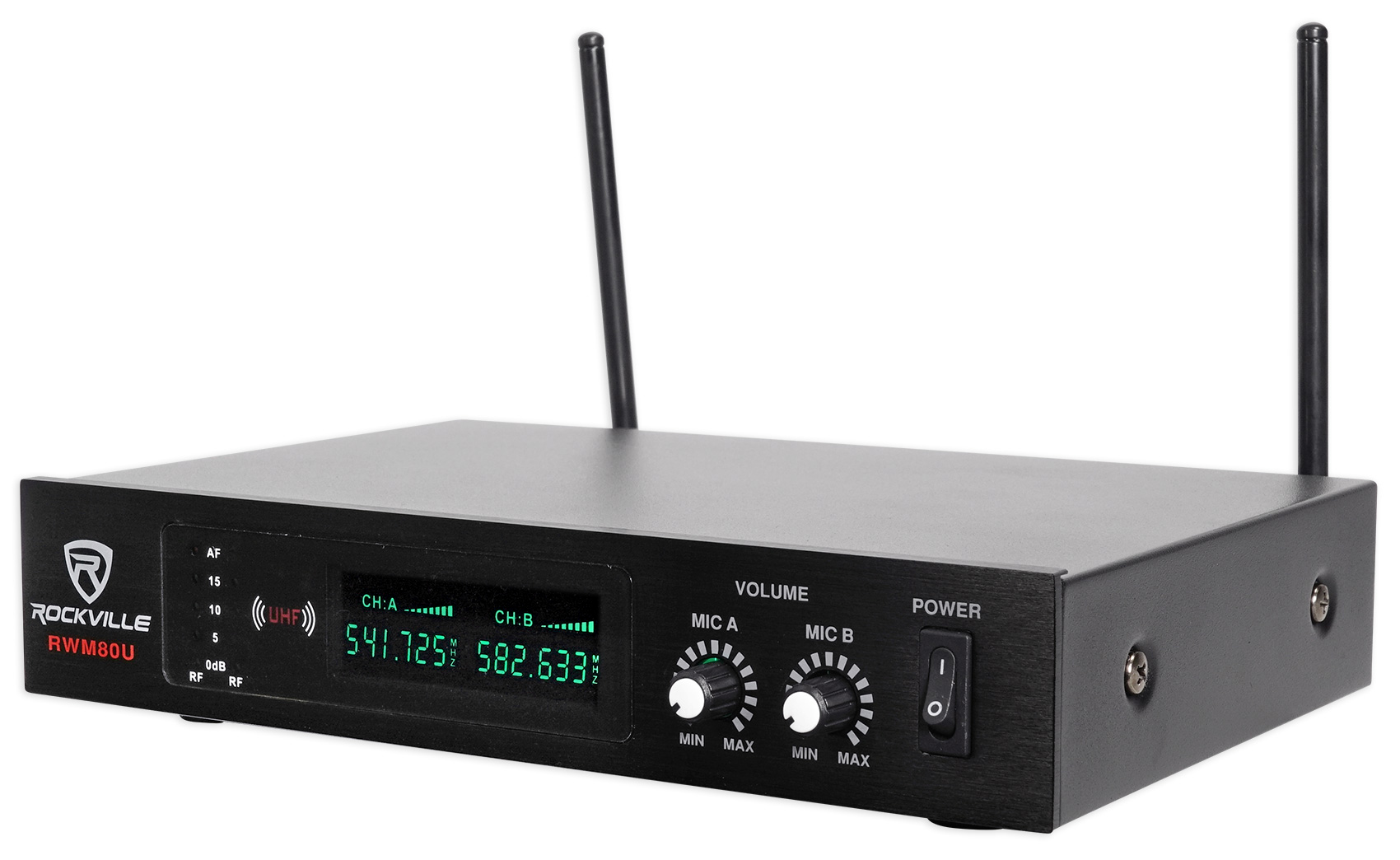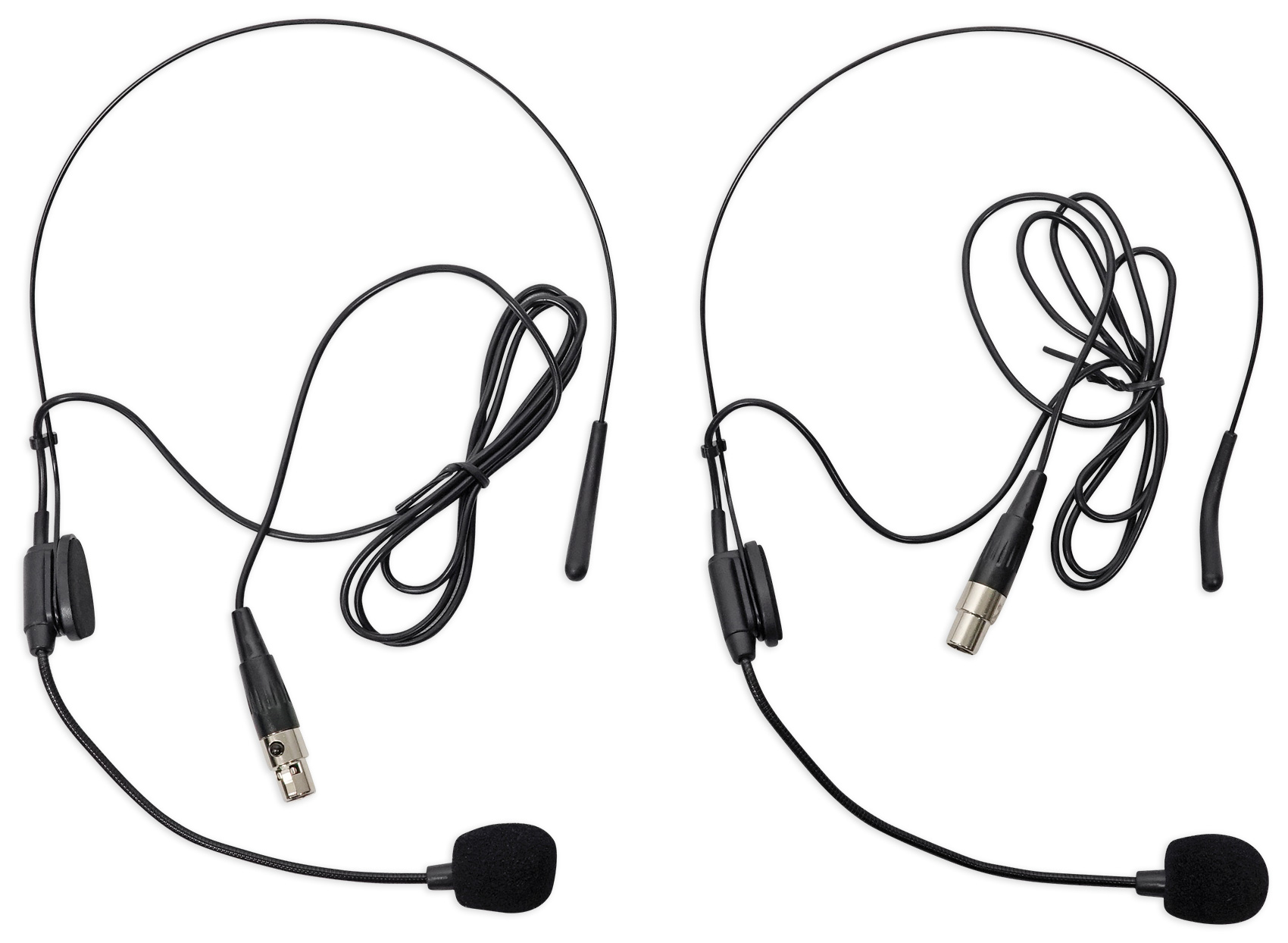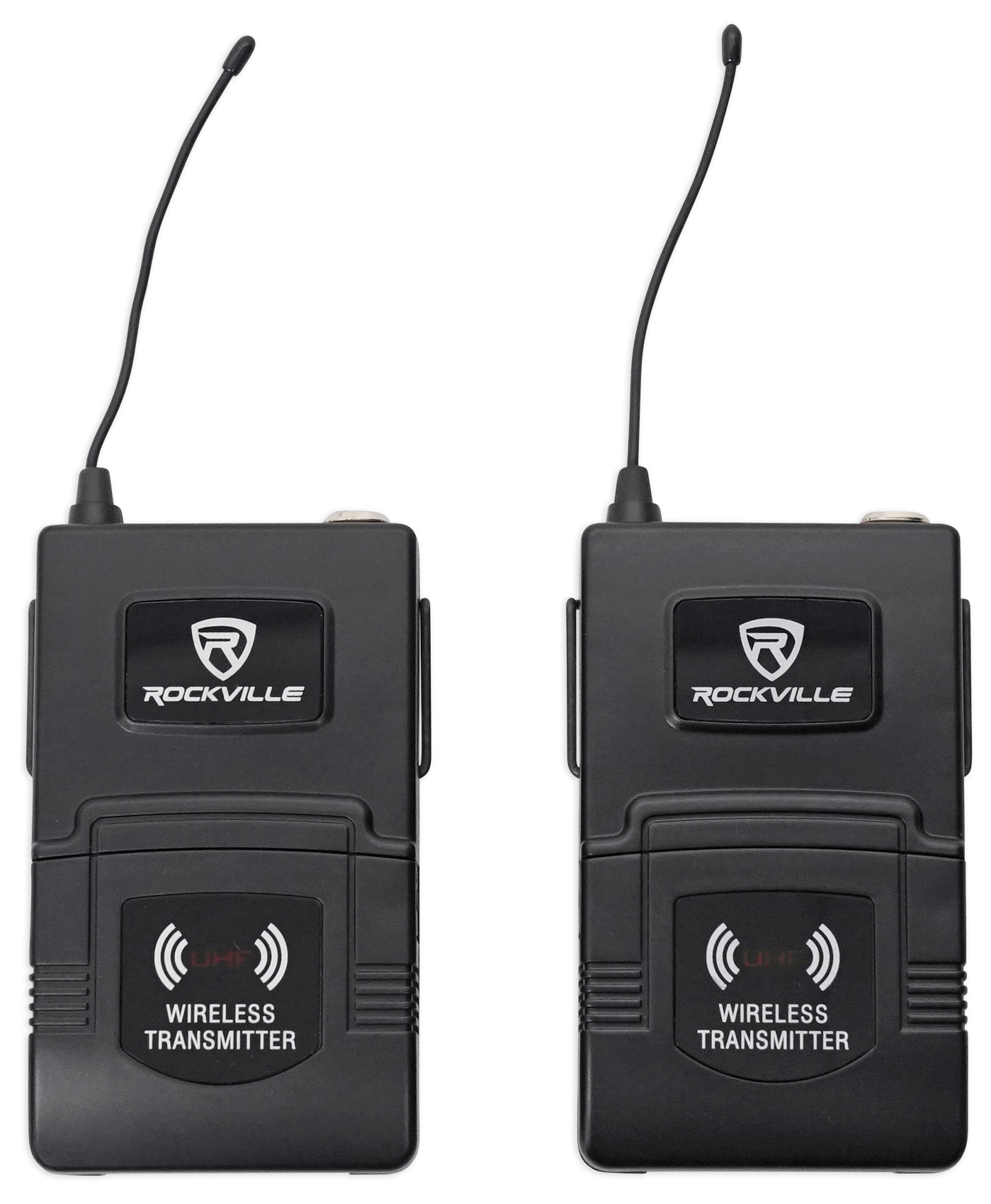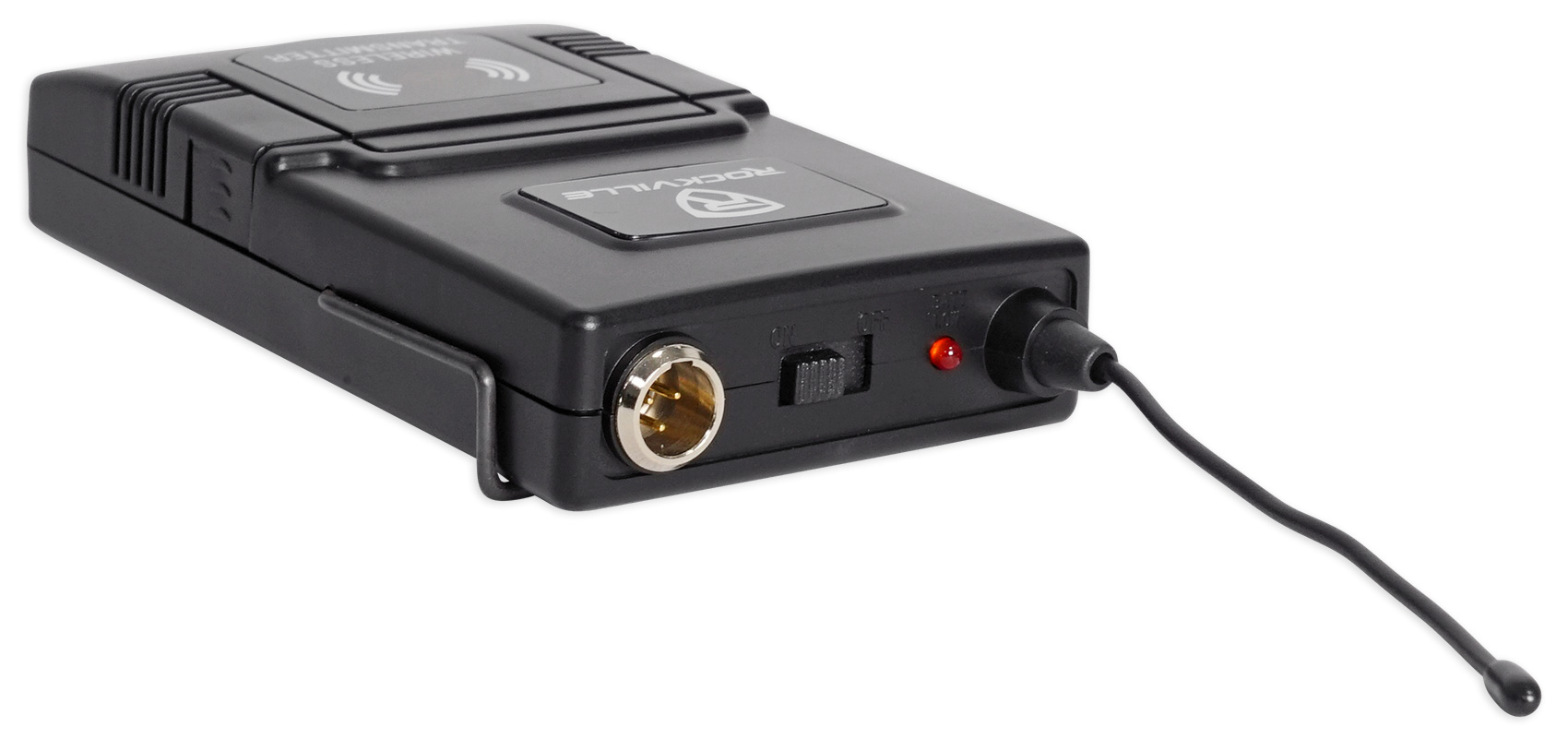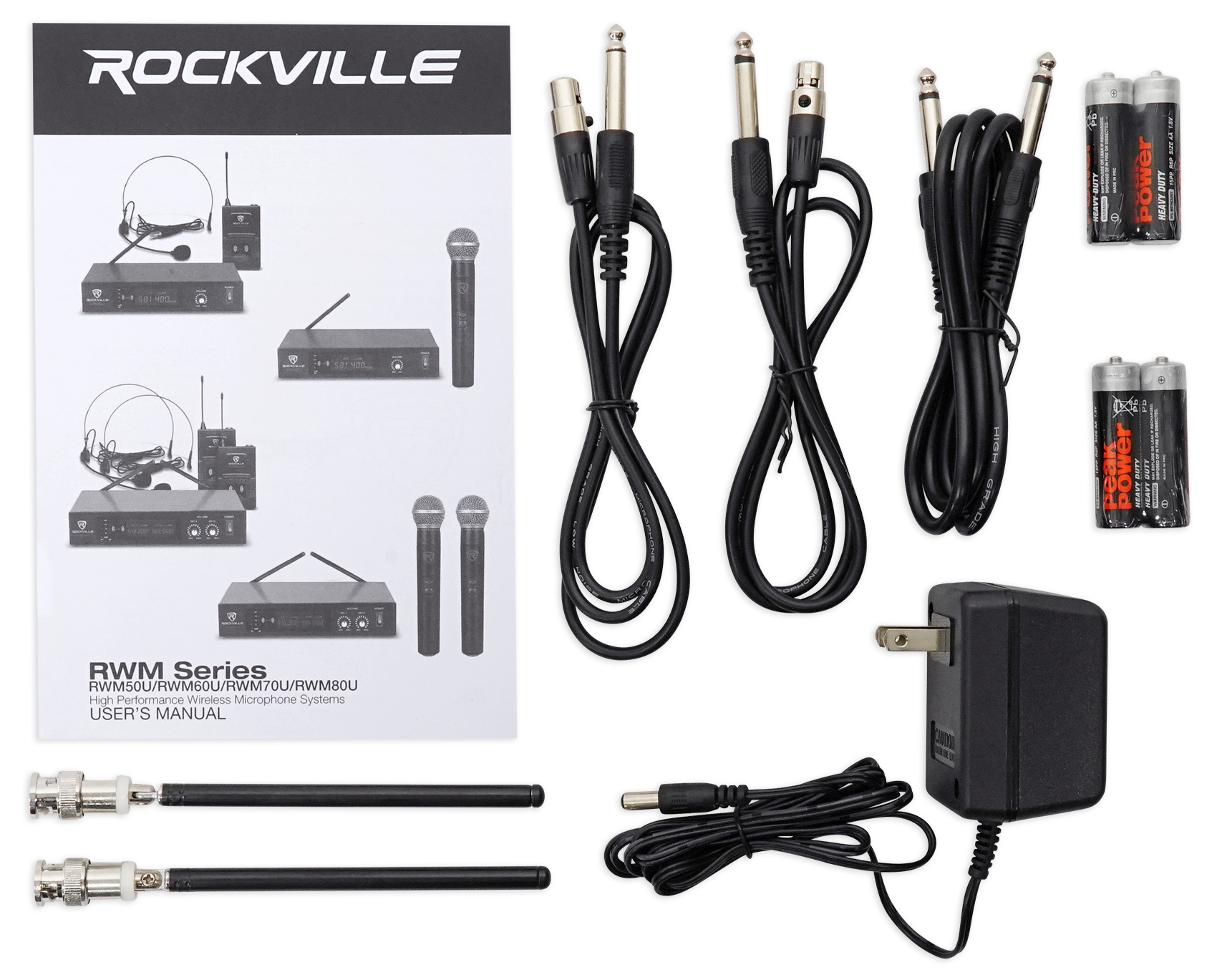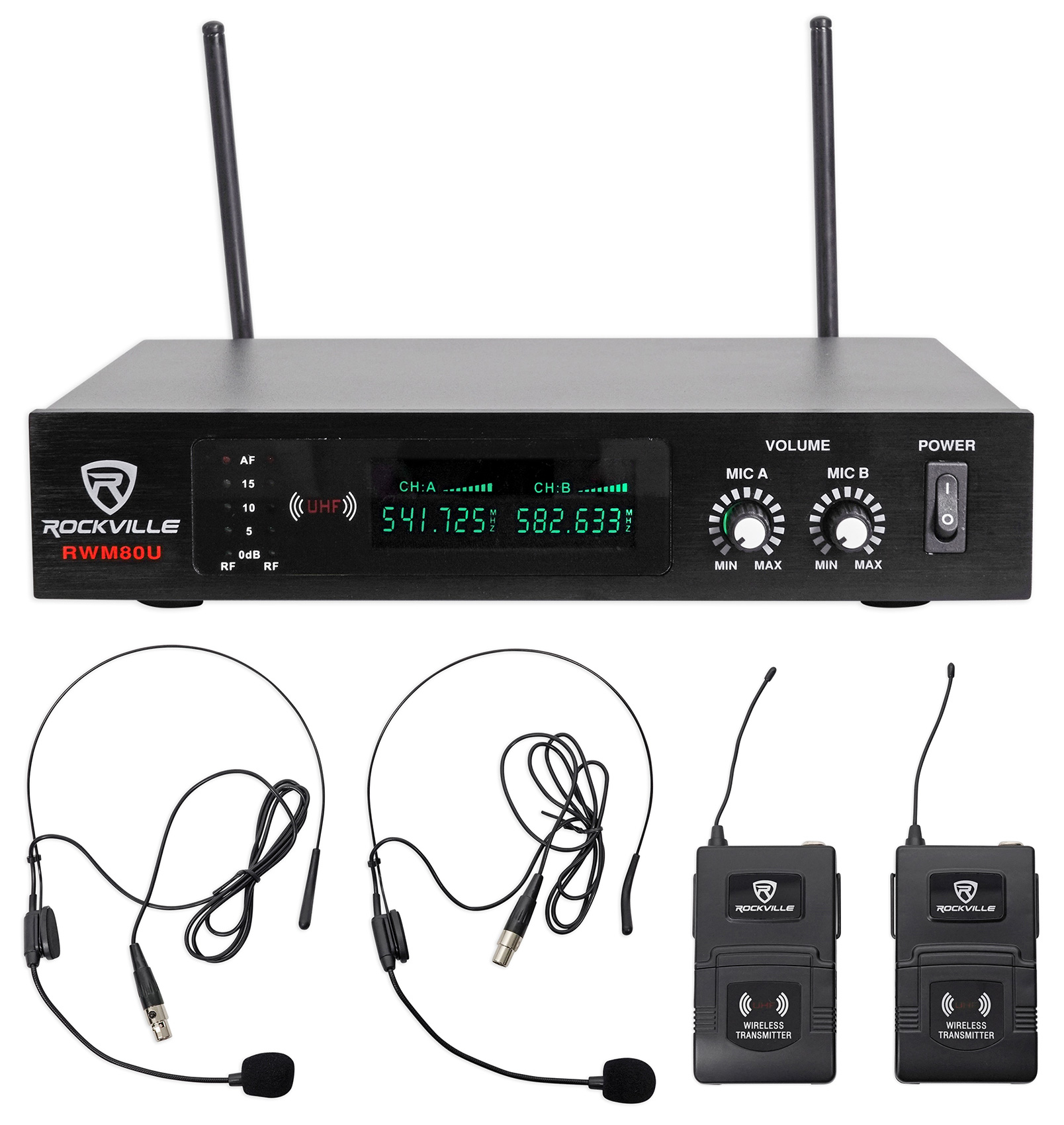 Click Thumbnails to Enlarge
Condition: BRAND NEW IN ORIGINAL PACKAGING
Warranty: 1 YEAR AUDIOSAVINGS
Authorized Rockville Dealer !
Video of RWM80U:
Includes:
Features:
Rockville RWM80U Dual Wireless UHF Headset Microphone System

High performance wireless headset microphone system

Includes transmitter with two high sensitivity, unidirectional, wireless, cardioid headset microphones

Featuring a dual filter design to limit feedback and interference

Ultra signal stability eliminates unwanted distortion

Professional receiver with multifunction color displays shows frequency, signal synch, and audio input

Transmitter automatically links to receiver for ease of use

Use any two mics (handheld or headset) at once

Individual microphone volume controls

Rugged metal housing

Comfortable ergonomic composite microphone construction

Low power consumption for longer battery life
System:
Operating Range: 300´ – 400´(indoor), 250´ – 350´(outdoor)

Channel: Two Channel

Frequency Range: 500MHz - 698MHz

Frequency Stability: ±0.005%

Modulation Mode: UHF

Frequency Response: 50Hz - 15KHz (±3 dB)

Dynamic Range: 105dB

S/N: 100dB

T.H.D: 0.5% (1KHz)

Audio Output Jack: XLR balanced & amp; 1/4" mixed

Power Supply: 110V

Operating Temperature: 3°F - 130°F

Mic Battery Operating Time: up to 10 hours

Oscillation mode: Quartz Crystal

RF Output Power: 10mWOutput Level: 0 – 300mV
---
About Rockville Quality Control Procedures:

The Rockville brand stands for Quality, Innovation and Value. We aim to deliver products twice as good as our competitors at a fraction of the cost of famous brands. All Rockville products go through the most rigorous quality control standards in the industry. Products go through months of extensive testing before they reach your hands. All functions and components are tested for quality. Rockville makes products that are virtually un-breakable! Rockville is one of the only brands in its class to have engineers and technicians test every concept model for weeks or months before starting production. Once production begins, Rockville sends product engineers to the factory to quality control every product. After production is complete Rockville has the head of QC in our overseas office test a certain percentage of all products from the production line a second time to ensure that the quality meets our strict standards. All Rockville products are backed with a hassle free warranty.
AudioSavings Return Policy:
At Audiosavings, we strongly believe in customer satisfaction and therefore offer free return shipping within 30 days of purchase on all items returned to us within the continental USA.
Prior to returning merchandise, contact us and we will give you a return authorization # and a return label.
You may return this item for a refund within 30 DAYS of purchase.
Warranty Repair/Exchange Period: 1 YEAR
If your item is defective or you want to return it for any reason within the first 30 days of when it was delivered to you; you have the following options:
We will send you a

pre-paid shipping label

to replace the item for a brand new one.
We will send you a

pre-paid shipping label

to exchange the item for another item of your choice. If the item you chose is more or less money we will work out the price difference with you.
If you are returning a working item in used condition for a refund there will be a 20% used item fee deducted from your refund. All replacements and exchanges are free.
Replacement/Processing Time:
Your replacement or refund will process within 3-5 business days of when we receive the item.
Please note items with physical damage un-related to shipping are not covered under warranty. This includes blown speakers with burned voice coils. Registered software cannot be returned.
You MUST notify us within 48 hours if you receive an item that was damaged during shipping.
Process for returning items
Please email us with your eBay user ID, Item code / model #, Condition of the item, and the reason for your return. Please also indicate whether you would like a replacement, an exchange, or a refund. We will supply you with a reference number (RMA #) to put on the package which will ensure quick processing of your return. All returns require a RMA# to be returned back to our facility.