Rockville RBG15S 15" 1600 Watt Active Powered PA Subwoofer With Digital Signal Processor And Signal Input LED Indicator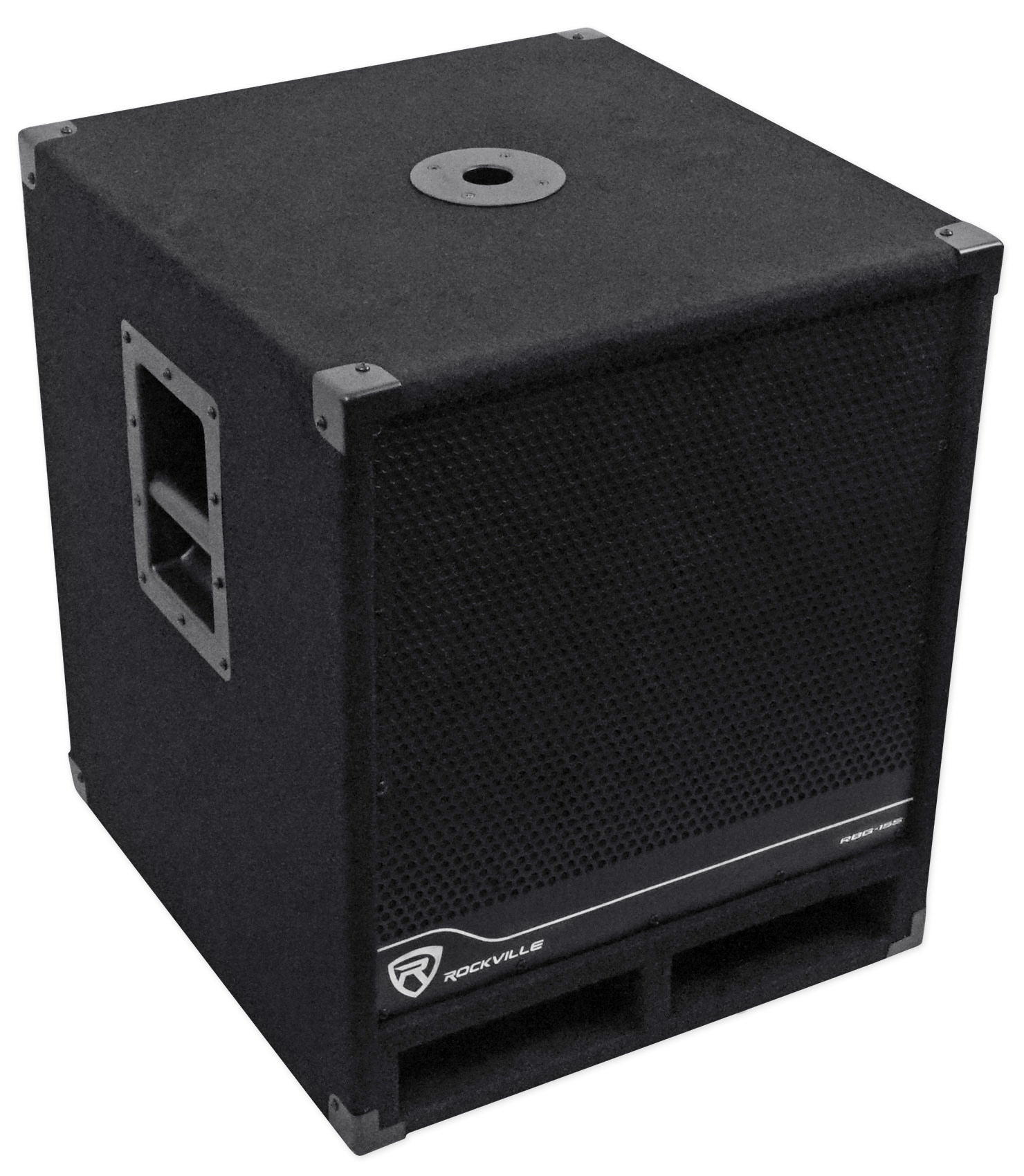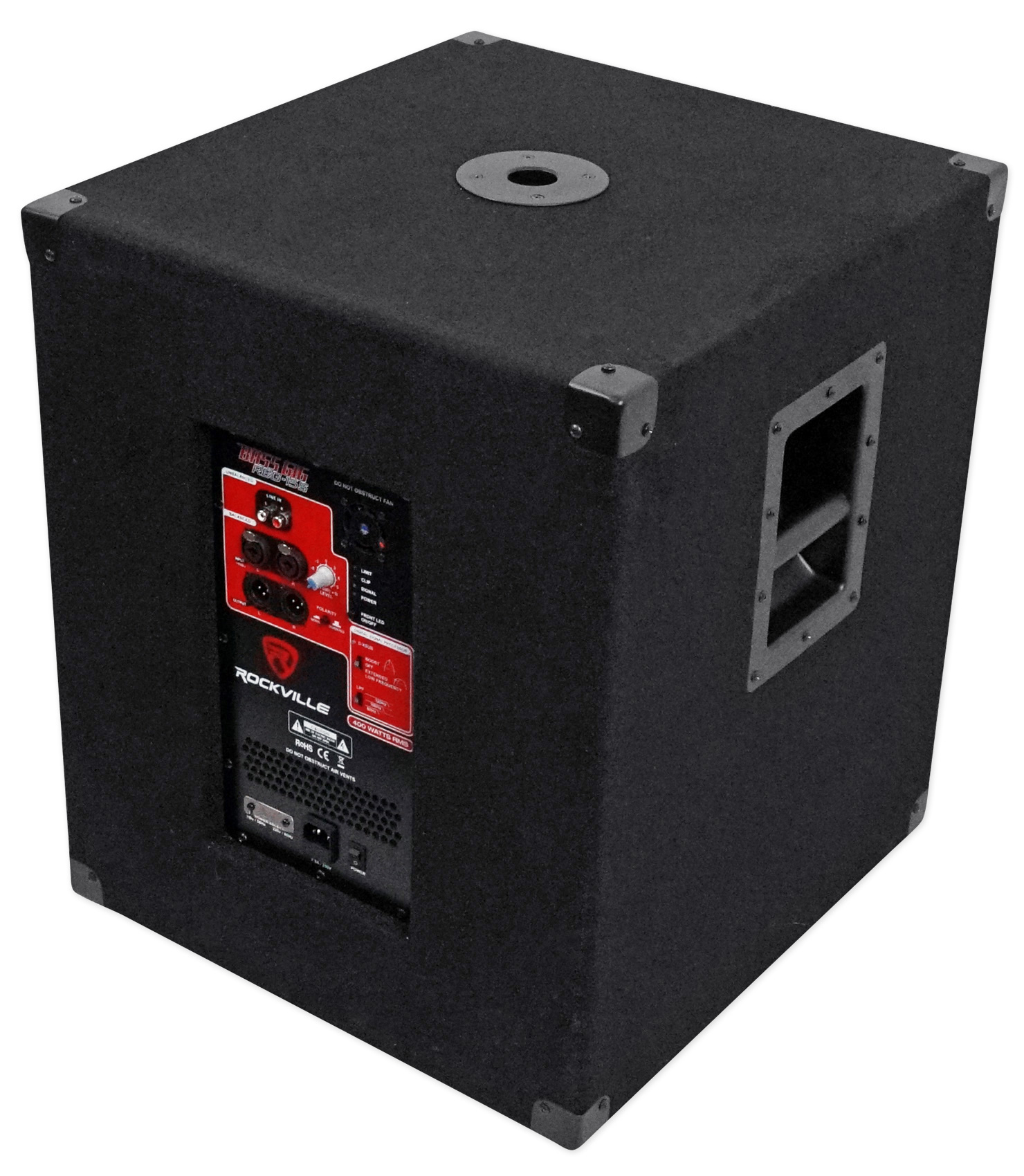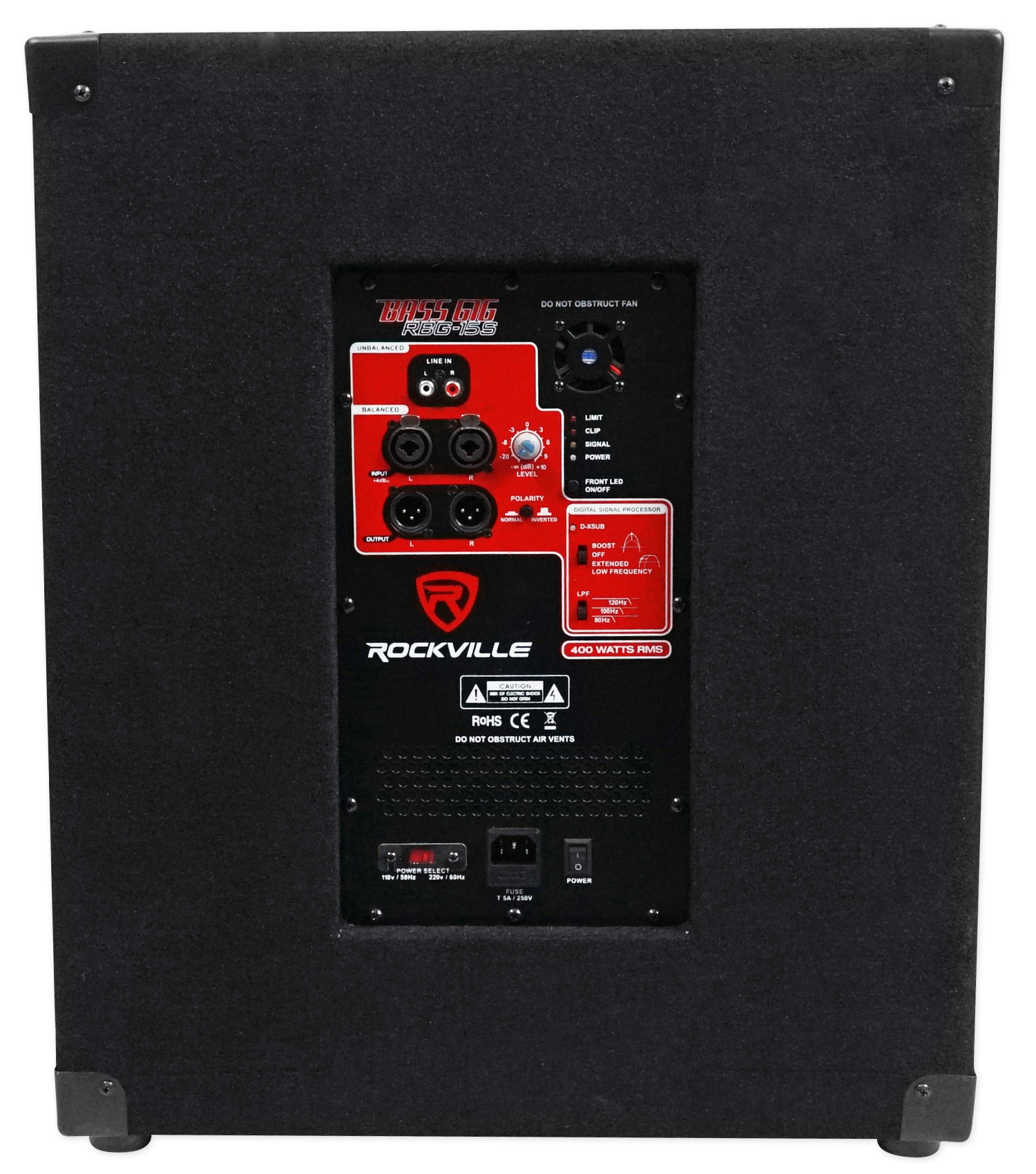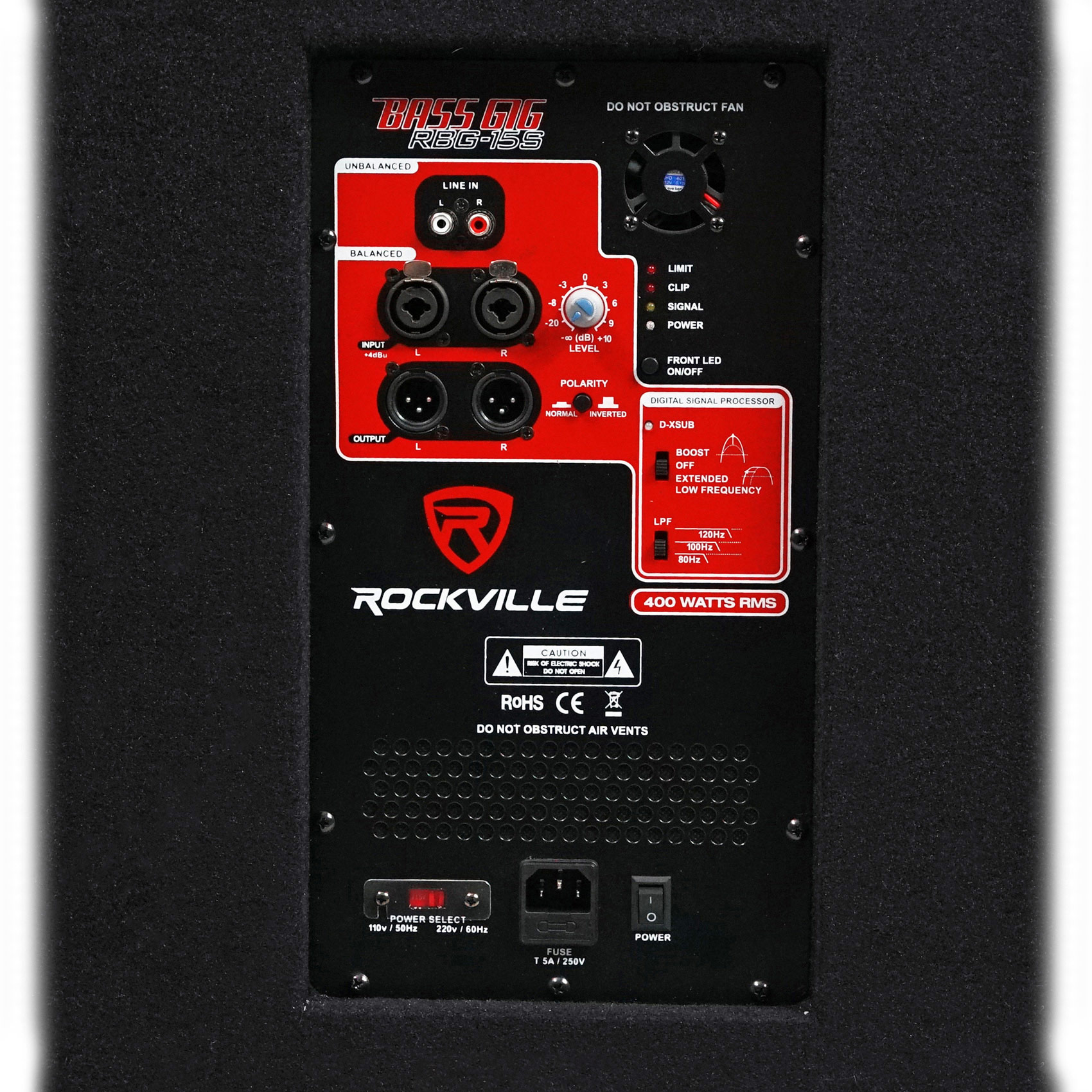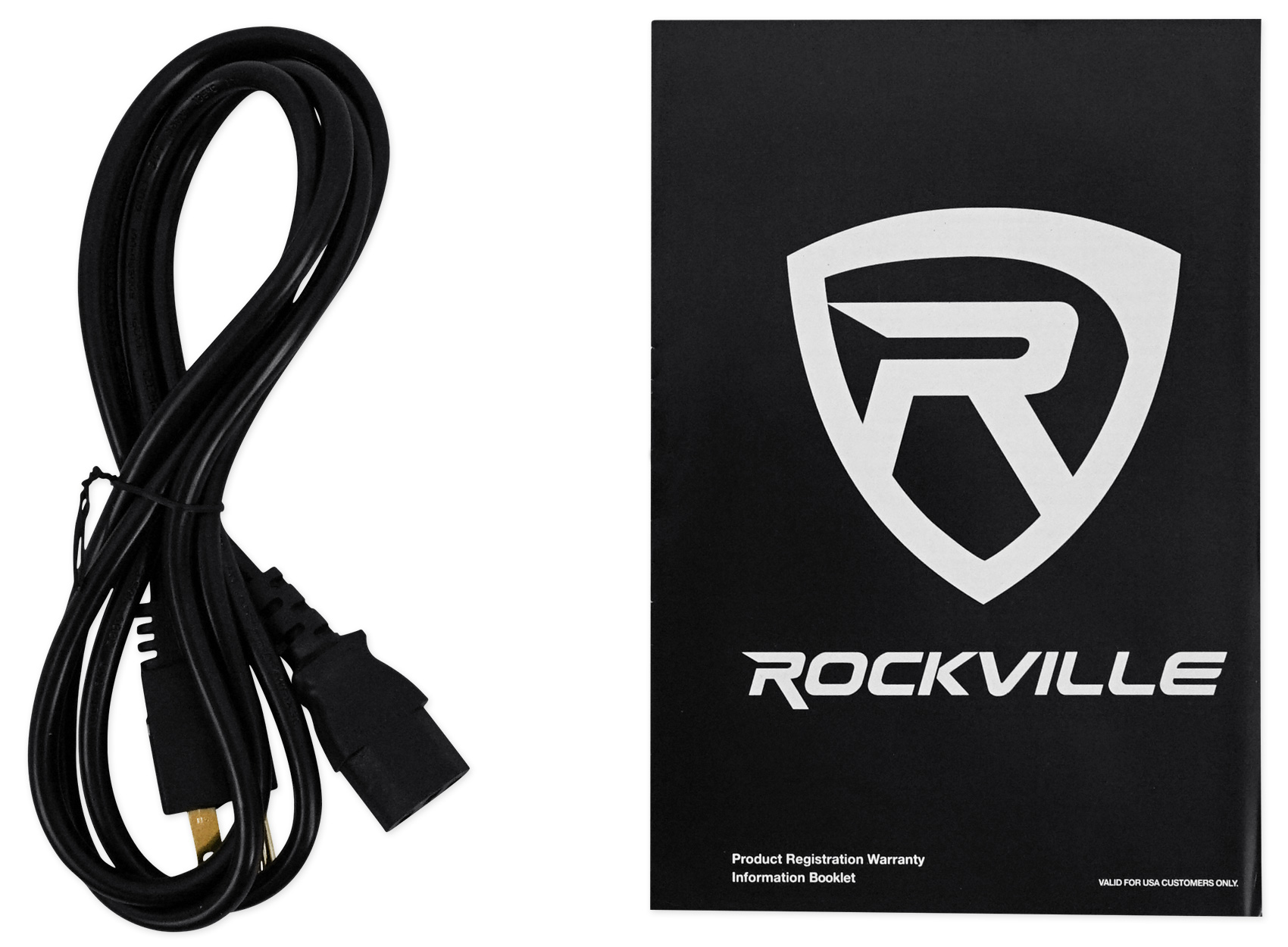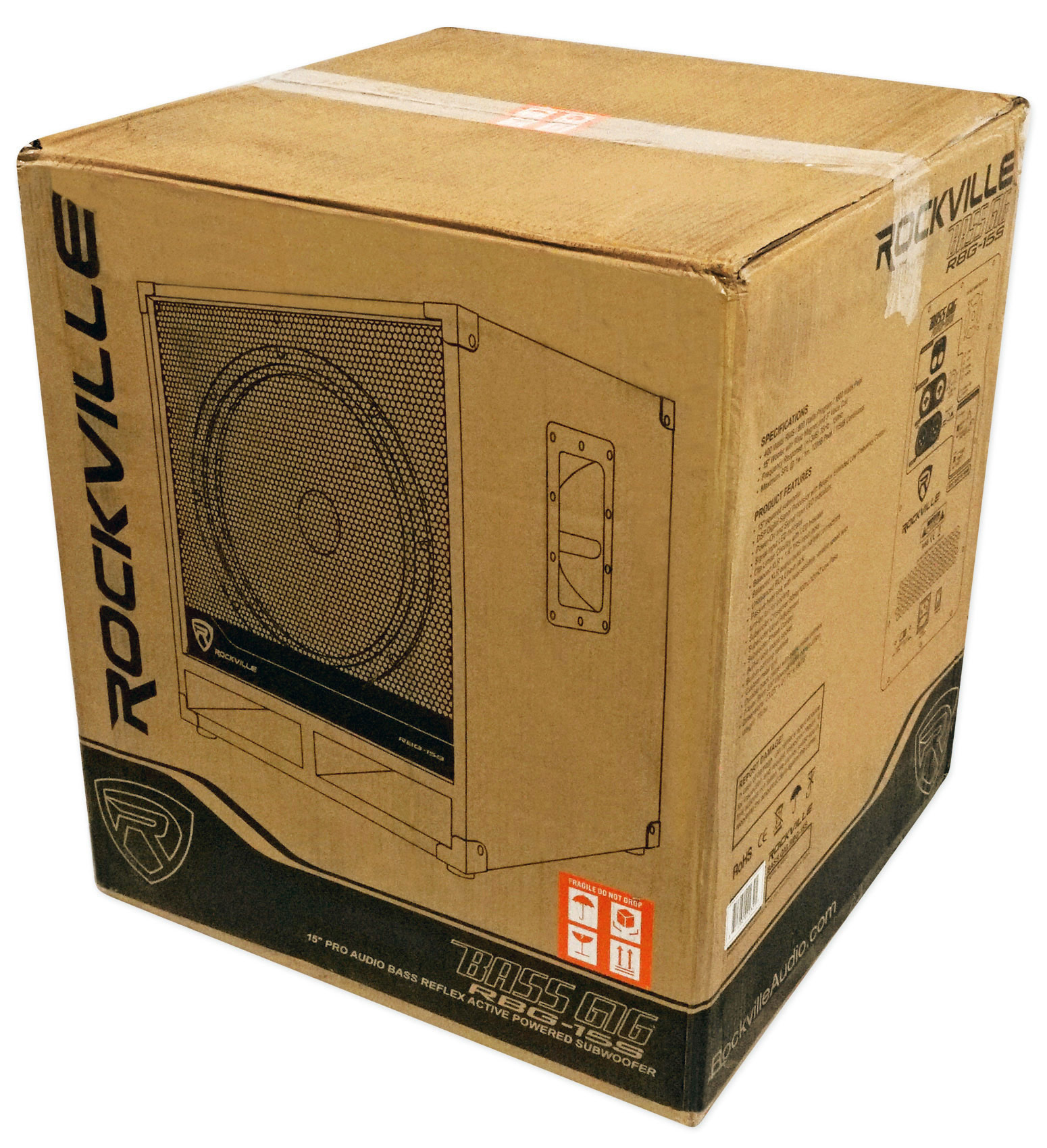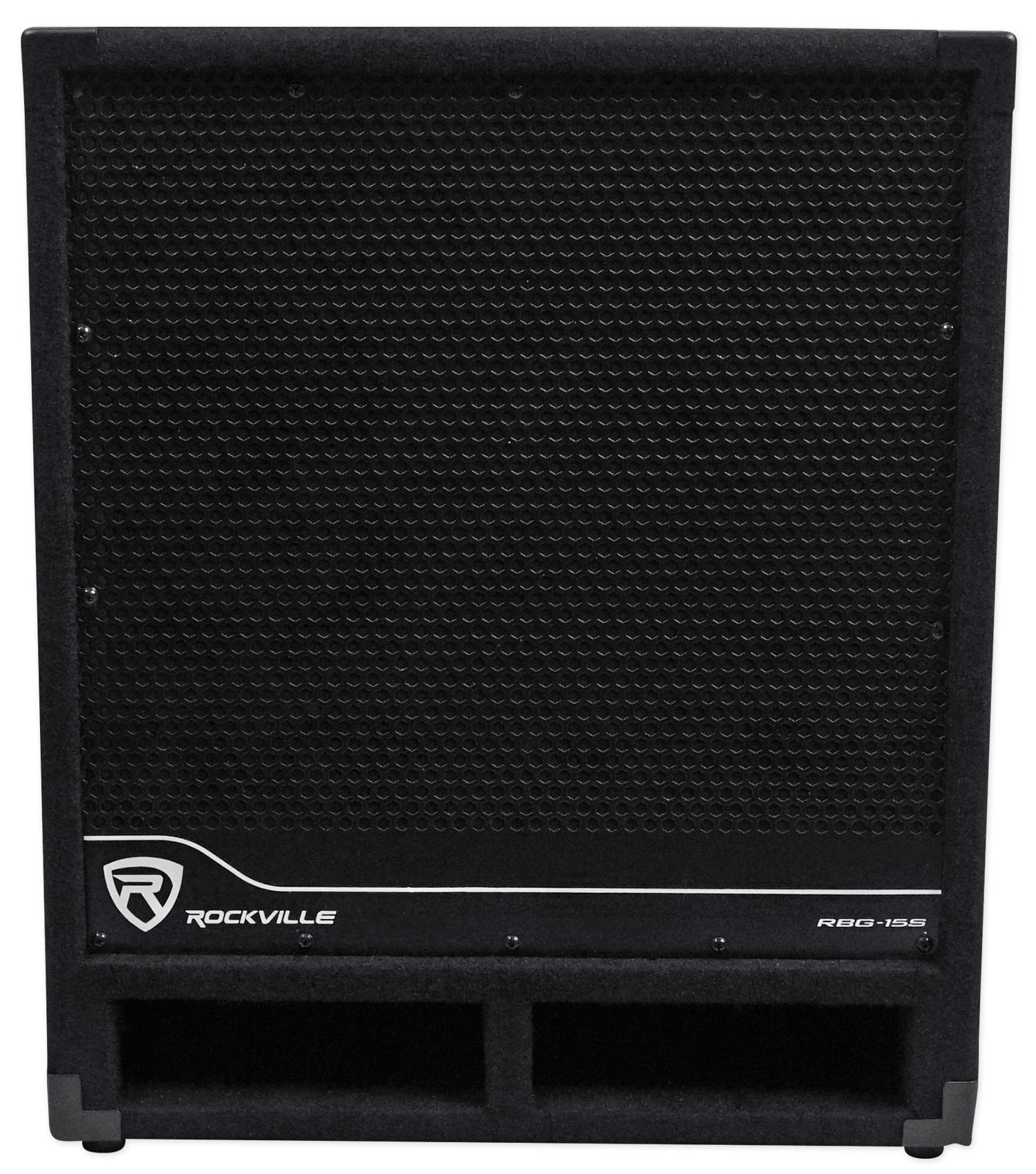 Click Thumbnails to Enlarge
Condition: BRAND NEW IN ORIGINAL PACKAGING
Warranty: 1 YEAR AUDIOSAVINGS
Rockville Bass Gig Series Active Subwoofers…Built to Blast!
Add serious low end to your gig with the Rockville Bass Gig RBG-15S powered subwoofer. This is an incredible sounding powered sub that features a 15" driver with up to 1600-watts of peak power for tremendous bass that can run all night without stopping. The subwoofer features a high temperature 4-layer 3" voice coil and is set in a 70oz magnet motor structure. The sound quality was just so much better, that we had to make this upgrade. Most brands on the market have smaller coils and lighter magnets. They will not perform or sound as good as the RBG15S. The amplifier features an internal heat sink with a heat sensitive, variable speed, auto turn-on fan cooling system, so even when your music gets HOT – your amp will stay cool.
You can tailor your sound using the built-in DSP (Digital Signal Processor), which allows you to either add extended boost or extended low frequency enhancement. The DSP circuit also controls over-excursion, thermal, and clipping protection which will ensure you can pound your subs hours straight without any damage occurring. This sub is built to last for years and years of use. A 3 position Low Pass crossover filters out the highs to make your system sound its best whatever venue you're in.
For added convenience and easy set-up, the RBG15S units feature combo XLR – ¼" TRS inputs with Level control and XLR thru puts to secondary units. Just connect your main mix outputs to the subwoofer, and then link your main speakers from the RBG15S! This sub features a heavy-duty pole-socket so you can mount your main speaker on top for easy setup and positioning and carry handles so you can easily transport it. Additional controls include a polarity switch, which allows you to invert the subwoofers polarity when installing the subwoofer away from the main speakers. This allows for near perfect time alignment of the subwoofer low-end frequencies to your main speakers.
Lets talk power for a second. Different brands have unique ways of rating their products. So off brands might just make up crazy peak power ratings and write things like 10,000 watts. Premium brands will generally give you legitimate RMS power ratings. So let me explain our ratings and our thought process. This powered sub is 400 watts RMS rated. This is the true continuous power rating. So if a premium brand such as Yamaha or Mackie were to build this same subwoofer, this is around the same RMS rating they would rate it at. 800 watts program power is basically a safe number the sub can handle during peak power of the songs but at an average volume level. This is the way some middle-of-the-road brands would rate it. The peak power of 1,600 watts is what the sub can produce for a split second during the loudest point of a song at full volume. I have seen entry level brands write 4000 watts on subs with less than half the power of this one. Our peak rating is actually a legitimate peak rating, however peak ratings are not important and can vary greatly depending on many factors.
Features:
Rockville RBG15S 15" 1600 Watt Active Powered PA Subwoofer

400 Watts RMS / 800 Watts Program / 1600 Watts Peak Power


15" Woofer with 70oz Magnet and 3" Voice Coil

Frequency Response: (+/-3dB) 29Hz - 150Hz

Maximum SPL @ 1w / 1m: 120dB Peak / 115dB Continuous

DSP Digital Signal Processor with Boost for Extended Low Frequency Control

Power-On and Signal Input LED Indicators

Signal Input LED Indicator

Clip Limiter Circuitry with LED Indicator

Balanced XLR + TRS input jacks

Balanced XLR thru/output jacks for parallel connections

Passive heat sink with heat sensitive variable speed auto turn-on fan for cooling

Subwoofer Crossover 80Hz/100hz/120HZ Low Pass

Subwoofer Level Adjustment

Subwoofer Phase Control

Built-in pole mount socket

Built-in carrying handles

Custom metal grill

Durable black carpet with black metal corners

7-layer Birch 5/8" plywood baffle construction

Aluminum former voice coils with copper winding


Dimensions: 23.25" x 20.75" x 19.75"

Weight: 73Lbs
AudioSavings Return Policy:
At Audiosavings, we strongly believe in customer satisfaction and therefore offer free return shipping within 30 days of purchase on all items returned to us within the continental USA.
Prior to returning merchandise, contact us and we will give you a return authorization # and a return label.
You may return this item for a refund within 30 DAYS of purchase.
Warranty Repair/Exchange Period: 1 YEAR
If your item is defective or you want to return it for any reason within the first 30 days of when it was delivered to you; you have the following options:
We will send you a

pre-paid shipping label

to replace the item for a brand new one.
We will send you a

pre-paid shipping label

to exchange the item for another item of your choice. If the item you chose is more or less money we will work out the price difference with you.
If you are returning a working item in used condition for a refund there will be a 20% used item fee deducted from your refund. All replacements and exchanges are free.
Replacement/Processing Time:
Your replacement or refund will process within 3-5 business days of when we receive the item.
Please note items with physical damage un-related to shipping are not covered under warranty. This includes blown speakers with burned voice coils. Registered software cannot be returned.
You MUST notify us within 48 hours if you receive an item that was damaged during shipping.
Process for returning items
Please email us with your eBay user ID, Item code / model #, Condition of the item, and the reason for your return. Please also indicate whether you would like a replacement, an exchange, or a refund. We will supply you with a reference number (RMA #) to put on the package which will ensure quick processing of your return. All returns require a RMA# to be returned back to our facility.