Service Dog Vest with Removable Reflective "Hook and Loop" Patches 12 Colors
ORDERING CUSTOM PATCHES AVAILABLE
In this listing you can select standard pre-designed patch or create your own custom patch by selecting an option "CUSTOM PATCH"

With an option "CUSTOM PATCH" please specify what would you like to see on the patch by sending a message inside your order (use message for seller box) during the checkout.
If any Patch/Size/Color not available in this listing selection, please look for additional listings below
Additional Pre-Made patchaes or Custom made patches with your own wording can be purchased separately. CLICK HERE

PLEASE MEASURE YOUR DOG'S GIRTH BEFORE BUYING.
IF FOR SOME REASON VEST DOES NOT FIT, WE WILL EXCHANGE IT OR WILL TAKE IT BACK FOR A FULL REFUND. PLEASE CONTACT US VIA MESSAGES FOR ASSISTANCE
We are here to help. Please ask if you have any questions or unsure about sizing
Sizes available:
Girth 13"-16". Length of the vest 7"
Girth 17"-21". Length of the vest 9.5"

Girth 22"-29". Length of the vest 13"
Girth 30"-38". Length of the vest 17"



Please refer to the visual diagram below for the spot where to measure the girth.

There are 12 colors available: Black, Blue, Red, Pink, Purple, Lime Green, Orange, Turquoise, Blue Camo, Green Camo, Pink Camo and Urban Camo.
Please note that different monitors might show Photos with slight differences


Letters on these patches are reflective. These patches attach to the harness using Hook and Loop strap. It is major advantage to the sewn on patches. They can be easily replaced, interchanged or removed.

These vests are lightweight with reflective stripe on each side for safety.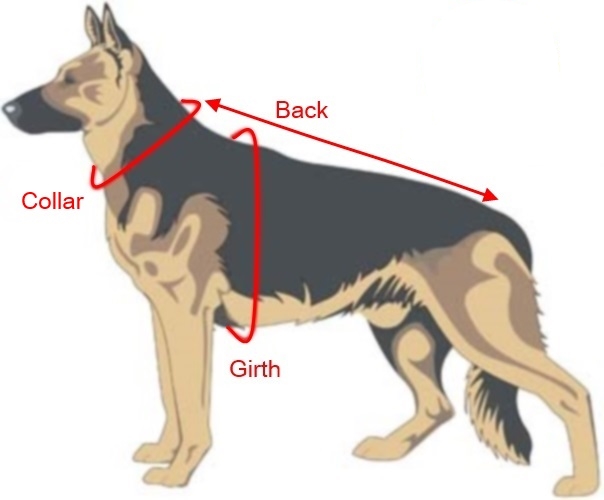 PLEASE CHECK YOUR SHIPPING ADDRESS PRIOR MAKING YOUR ORDER AS WE USE AUTOMATED SHIPPING PROGRAM AND WILL NOT BE ABLE TO CHANGE IT AFTERWARDS!
ANY QUESTIONS, PLEASE ASK PRIOR MAKING YOUR ORDER!
OUR GOAL IS - 100% CUSTOMER's SATISFACTION! PLEASE LET US KNOW IF ANY ISSUES