AC Traffic Light Controller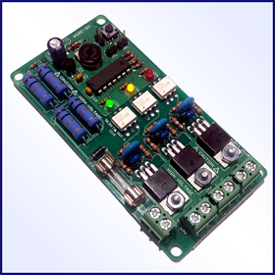 Looking to revamp an old party traffic light or wanting to power the real thing, the AC Traffic Light Controller is the perfect solution. Accepting standard 120VAC line voltage, this controller provides over 500 Watts of power per channel and will drive full-sized LED and incandescent traffic lights (This includes all brands and wattages of dimmable LED bulbs). Solid state outputs with snubbing circuitry means both inductive and non-inductive loads can be switched effortlessly for years. No noisy mechanical relays that can fail after several months with short cycle times. Newly improved with microcontroller technology and 9 different programmable sequences. Includes quick installation instructions and four (4) adhesive standoffs for effortless mounting on virtually any surface.
---
Make sure to check out our entire line of Traffic Signal related products.
| | | | |
| --- | --- | --- | --- |
| | | | |
| Low Voltage Traffic Light Controller | 6-Channel AC Traffic Light Controller | Pedestrian/RR Crossing Controller | AC Traffic Light Controller |
---
Mode 1:

Standard Traffic

Light Sequence

Mode 2:

British Traffic Light Sequence

Mode 3:

Red-Yellow-Green

All flash Sequence

Mode 4:

Red-Yellow-Green

Up-down Sequence

Mode 5:

Red Light Flashing

Only Sequence

Mode 6:

Yellow Light Flashing

Only Sequence

Mode 7:

Green Light Flashing

Only Sequence

Mode 8:

Random Flashing

Sequence

Mode 9:

Sweeping Light

Sequence
---
FEATURES:
Easy to program mode selection with pushbutton control.

9 traffic light sequence modes including 4 standard modes.

Separate digital control for "YELLOW" allowing for more realistic operation (3 to 6 seconds).

User selectable time delay from 5 seconds to 2 minutes.

Wide input voltage range, accepting from 90 to 130VAC

with input fuse protection

.

Independent outputs channels for operating LEDs or Incadescent lamps.

Solid state switching for silent operation (no clicking mechanical relays).

Snubbing circuitry to protect from inductive kickback and reverse voltage spikes.

Onboard LEDs to show current output states.

Compatible with virtually all types of 120VAC traffic lights.

Four adhesive standoffs to allow for effortless mounting.
SPECIFICATIONS:

Supply Voltage: 90VAC to 130VAC

Output Rating: 120VAC @ 4.2A per channel (fused at 5A)

Input Connector: 14-26AWG, 250VAC @ 16A

Output Connector: 14-26AWG, 250VAC @ 16A

Delay Range: VR1: 5-120 seconds (yellow 3-6 s via jumpers)

Board Dimensions: 3.94 x 1.97" (10 cm x 5.0 cm)

Board Material: 0.062" (1.6 mm) FR-4, with green solder mask and top layer silk screen

Unit Weight:1.6 ounces (46 grams)
This unit includes mounting hardware and instructions on how to install your AC Traffic Light Controller. Please feel free to contact us if you have any question about this unit prior to bidding.
IMPORTANT NOTICE: Please observe all applicable electrical wiring codes when utilizing this product. Additionally, this device is fused with a 5A/250VAC fast acting fuse. Replace only with an equally rated UL approved fuse. The user understands that Galak Electronics is not liable for any damages (including shock, fire, property damage or death) due to the improper use or installation of this product. Not intended for outdoor use. Please contact us before bidding if you have concerns about safe and proper installation of this product.
Take advantage of our multiple auction shipping discount. Purchases in excess of 60 USD require additional registered shipping of 12 USD for buyers outside of the United States.
PRODUCT WARRANTY
Limited Lifetime Warranty
For as long as you own this product we guaranteed it to operate properly and be free of defects in materials and workmanship. Should a Galak Electronics product fail during the warranty period, return it to us. We will repair it, or at our discretion, replace it at no additional charge, and pay the return shipping cost. If the failure is found to be due to user negligence (i.e. exceeding maximum rated specifications, water damage, short circuits) you will be charged a maximum cost no more than the original purchase price.