Bose QuietComfort 35 Wireless Headphones II, Factory Renewed
Renowned Noise Cancelling Headphones. Now With Bose AR.
The Google Assistant and Amazon Alexa Built Right In.
QuietComfort 35 wireless headphones II are engineered with renowned noise cancellation that makes quiet sound quieter and your music sound better. With the Google Assistant and Amazon Alexa built in, you have instant access to millions of songs, playlists, and more — hands free. Simply choose your voice assistant and ask away. And that's just the beginning. QuietComfort 35 wireless headphones II are now enabled with Bose AR, a first-of-its-kind audio augmented reality platform.
Focus. On.
Proprietary technology clears away the noisy distractions of the world so you can get deeper into your music, your work, or whatever you want to focus on. You decide the level of noise cancelling to fit your environment. So you can focus on what really matters to you.
Bose + Voice. Now You're Talking.
Bring Amazon Alexa or the Google Assistant with you wherever you go. Enjoy entertainment, get information, and manage your day. All with your voice.
A Few Icebreakers...
Using your voice is easy. Just ask Alexa or the Google Assistant to help you get home, add something to your to-do list, check the weather, and so much more — all without glancing at your phone.
No Voice Assistant? No Problem.
If you're not an Amazon Alexa or Google Assistant user, don't worry. You can still use the Action button to adjust your level of noise cancellation between three settings.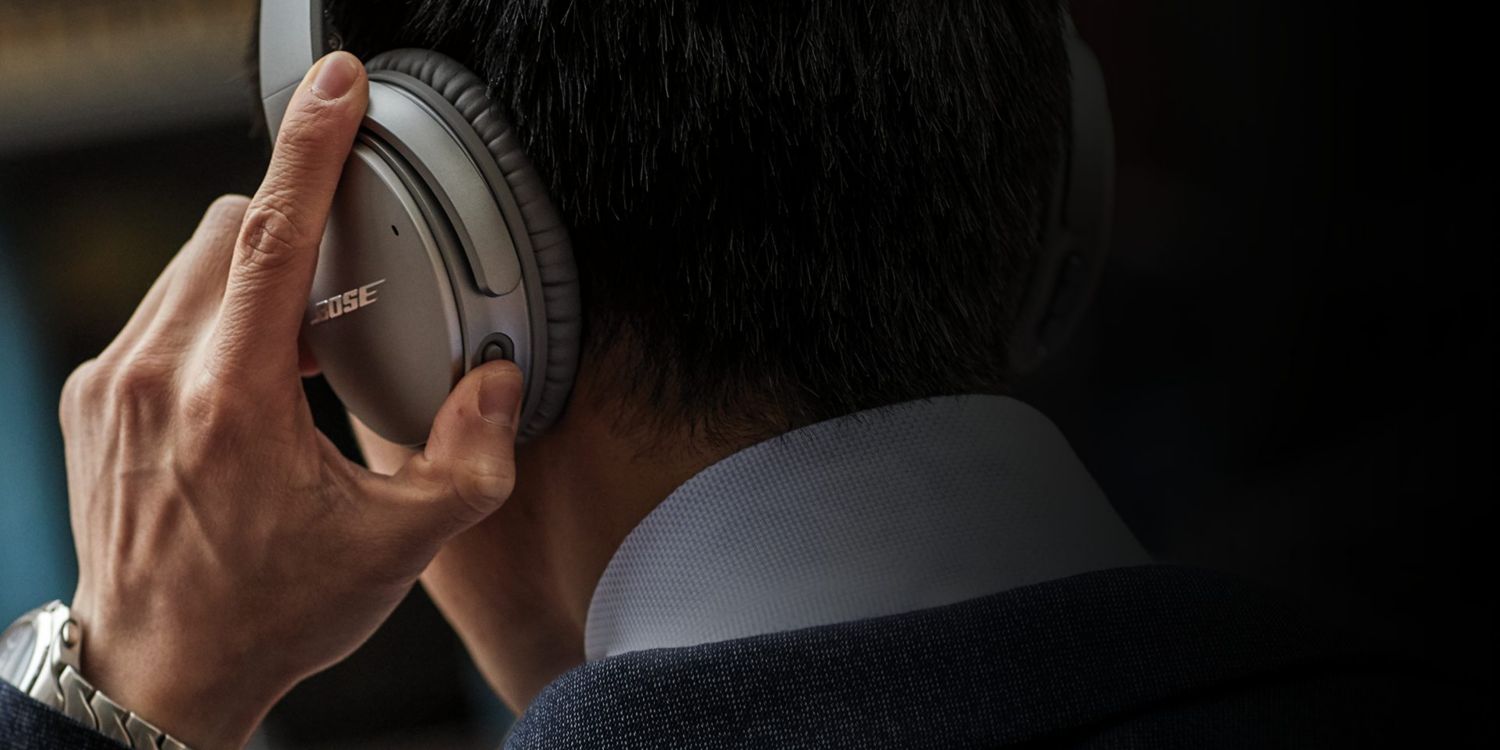 ASTONISHING SOUND AT ANY VOLUME
Get fullness and clarity, regardless of how loud it gets. The drivers in the QC35 II feature volume-optimized EQ for clear, balanced audio whether you're in a quiet office or busy street. And a noise-rejecting dual microphone system provides clearer calls, even in noisy environments.
BATTERY LIFE UP TO 20 HOURS
Keep the music — or the quiet — going all day long. If you need a little bit more, a quick 15-minute charge gives you another 2.5 hours. You can always use the included cable to plug in and keep the music playing.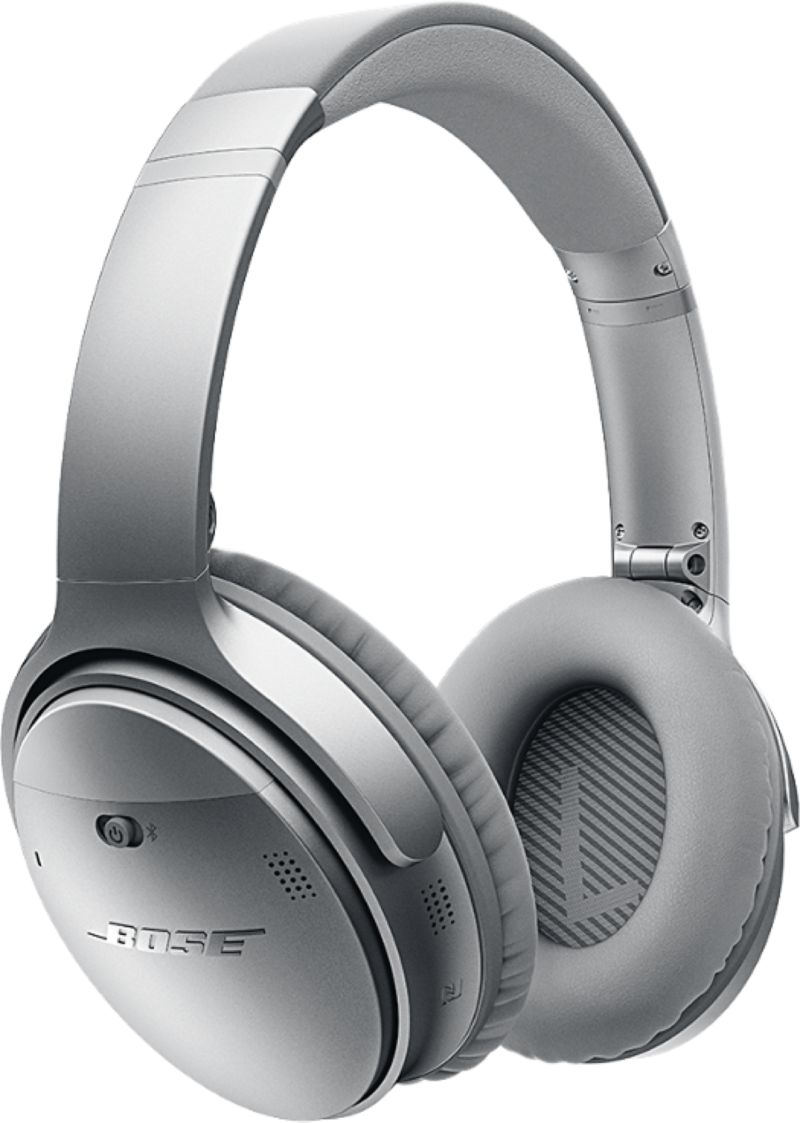 THE WORLD OF BOSE AR
Bose AR is a first-of-its-kind audio augmented reality platform, combining the power of next-gen Bose audio products with innovative mobile apps. Together, they can create astonishing real-world experiences and fundamentally new ways to travel, exercise, learn, play, and more. Meanwhile, you can go through life heads up, hands free, and ears amazed.
Bose AR availability and functionality varies.






ONE APP, COMPLETE CONTROL
The Bose Connect app gives you easy access to everything your product has to offer. Get tips, unlock Bose AR, and personalize your settings, so you can spend more time enjoying the music instead of setting it up. Bose AR-enhanced apps are currently available for iPhone and iPad users only. Apps for Android devices are in development.
Whether you're in an airport or a library, you can also choose just how much you want to hear (or don't) by adjusting the levels of noise cancellation. And remember, sharing is caring. You can connect two wireless Bose headphones, so you and your friend can listen to the same thing at the same time. Hope you have a good playlist lined up.
BOSE FACTORY-RENEWED PRODUCTS
Factory Renewed products have previously been purchased from one of our dealers or from our Direct Sales division. They have then been returned to us under our satisfaction guarantee. Usually Factory Renewed products don't look any different than new products. A product may have a slight cosmetic blemish, but there is no audible performance imperfection.
Once they have been fully tested, inspected, and remanufactured as necessary, they are issued at a discount with a fully certified new warranty and new satisfaction guarantee. Most products have previously been on sale at higher prices in electronic retailers or through our direct marketing channel.
By placing order on this listing, I agree to the Bose
Terms of Sale
.
SPECS
Dimensions / Weight
Headphones: 7.1" H x 6.7" W x 3.2" D (8.3 oz)
Audio cable: 47.2"
USB cable: 12"
What's In The Box
QC35 wireless headphones II
USB charging cable
Audio cable
Carrying case