Bose QuietComfort 35 I Wireless Headphones
It's Magical to the Ears, But IT's Not Magic
You feel it at the flip of a switch—noise fades, and your music soars. That's the power of our Acoustic Noise Cancelling technology, which continuously measures, compares and reacts to outside noise—then cancels them with the opposite signal.
How did we seamlessly merge Bluetooth and noise reduction technology together without compromising our premium audio performance? By obsessing over every detail
20 HOURS OF BATTERY LIFE
They say you can't get long battery life from wireless headphones. We say, "Try ours." Enjoy up to 20 hours of listening, enough time to pour through this entire playlist. And when it finally runs down, a quick 15-minute charge gives you another 2.5 hours.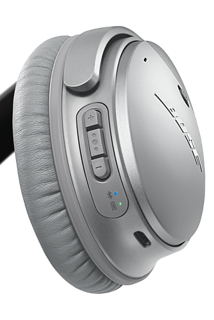 Built Better
When you want to take your music anywhere, you need headphones built to keep up. With impact-resistant materials, glass-filled nylon and corrosion-resistant stainless steel, they're engineered to survive life on the go.
Materials matter. That's why the QC35 headband isn't just soft, it's luxurious. Wrapped in Alcantara—the soft covering material used by prestigious international companies in various applications, like yachts and high-end automobiles—it provides a welcome comfort designed for all-day listening. The ear cushions are manufactured from a synthetic protein leather, and have a silicone bead for passive noise reduction.

By placing order on this listing, I agree to the Bose Terms of Sale.
SPECS
Dimensions / Weight
Headphones: 7.1" H x 6.7" W x 3.2" D (8.3 oz)
Audio only cable: 47.2"
USB cable: 12"
What's in the Box?
QC35 I Wireless Headphones
USB charging cable
Audio cable for wired connection
Airline adapter
Carrying case