Newer Version: decal & chain guard will be in different style as pictures below.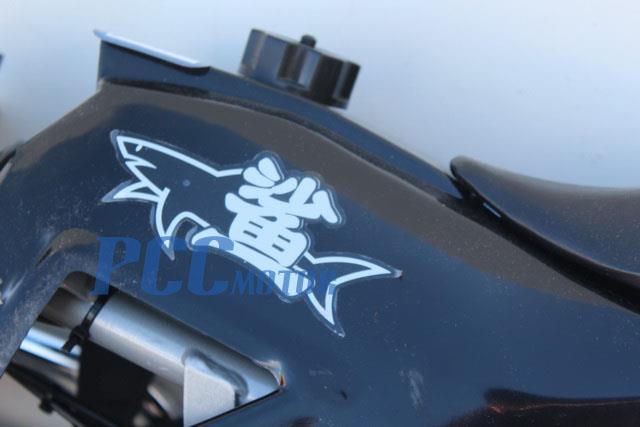 KIDS 49CC MINI GAS MOTOR DIRT BIKE
Limited quantity!!
PLEASE READ HERE↓
Condition:
Brand New in the box!
buyer needs to do final assemble
Please read item description below carefully before purchase!
Colors:
BLACK



Please note: Due to regulations from DMV & Federal Safety Standards this pocket bike CANNOT be registered or operated on public streets.
It's a competition purpose bike which is intended to be enjoyed on private property off-road ONLY.
Item Number: PCC49A
Engine type: 49cc single cylinder, air-cooled, 2-stroke
0.3 Gallon Gas Tank
Start: Pull Start
Speed: up to 25mph
Steel Frame with Heavy Coated Finish
Expansion Chamber Exhaust
Fully Automatic Transmission - No Shifting
High Quality Front and Rear Disc Brake
Front Suspension: Telescopic Forks
Rear Suspension: Shock
Heavy Duty 12" Tires
Large Comfortable Seat
Fuel: 1 Gallon of Gasoline + 2 cycle oil (25:1 mixing ratio)

Load Capacity: 100LBS(about 45kgs)

Size: 39"(L)x23"(W)x28"(H)
Weight: 52 lbs
Seat Height: 22"
.
COLORS: Red, Blue, Yellow ,Pink, and Green available in other listings
New Color "ORANGE" avaliable now!
THIS ITEM IS NOT FOR SALE IN HI,PR OR AK
49CC MINI GAS MOTOR DIRT BIKE
Final Assemble Required:(Handle Bar, Front Wheel and Rear Shock)

Warranty:30 Days Parts Replacement against factory defects.



Mechanical knowledge and skill are REQUIRED to use and maintain this bike or replace the parts, or contact us before purchase it !
PLEASE READ PRODUCT DESCRIPTION CAREFULLY BEFORE PURCHASING.
Return Policy
:
ELECTRIC SCOOTER & GAS MOTOR SCOOTER returns are not allowed.
In the rare occasion that a special circumstance scooter return is allowed, the item must be packed up in it's original shipping carton or a suitable substitute,
all accessories and parts must be included and you must write our RMA (Return Merchandise Authorization) number
clearly on the outside of the carton or we will refuse your shipment. Return shipping charges are the responsibility of the customer.
Freight collect and COD packages will not be accepted. We never issue call tags.
Unauthorized returns are subject to a 20% of Invoice restocking fee plus the original cost of shipping


The bikes we sell are technical & mechanical products, which require mechanical knowledge and skill to use and maintain.


You should not purchase our products unless you have a good understanding of how to use and maintain mechanical products.


The use of any powered vehicle could involve the risk of injury or death.


Please use these products in a responsible manner and wear safety equipments all times when riding bikes.



None of bikes we sell are road legal and are not for use on public highway. These bikes are intended to be enjoyed on private property.


Use of these bikes on a public highway could result in criminal proceedings.
Within warranty period the bike develops a fault, you must contact us to resolve the problem and we will provide required parts.


Please note customers will be expected to install parts themselves, guidance will be available by technician.