Food Cycler Platinum Indoor Food Recycler and Kitchen Compost Container
Brand New in Original Packaging
SKU: FC-30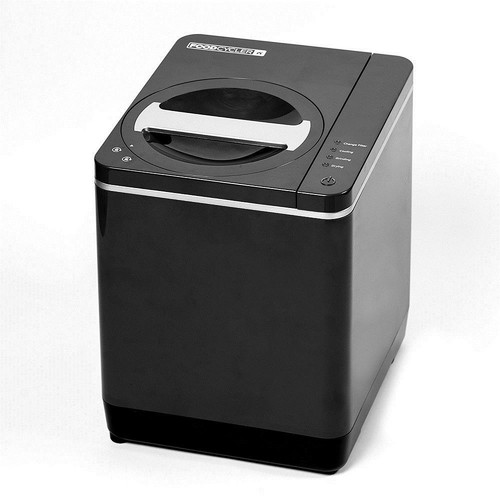 Upcycles your food waste!
Transforms food scraps into soil fertilizer
Energy efficient and odorless technology unit
Simple one button activation
Dishwasher safe, removable waste bucket
Food Cycler Platinum food recycling container is the state-of-the-art solution to your food waste problem.This machine is the only odorless, easy to use and maintain, environmentally friendly, short-cycle, in-home composting unit available. In as little as 3 hours, kitchen scraps can be reduced by up to 90% into a highly mature, nutrient-rich soil amendment – ideal for gardening applications!
Upcycle Your Food Scraps
Each week, we throw away food waste - table scraps, fruit rinds, eggshells and more. The FoodCycler turns all those food scraps into beautiful "foodilizer" - a soil conditioner that helps plants grow better and faster.
Simple to Use
Push a button, and in just a few hours, your leftovers can be used for your lawn and garden. It may sound like magic, but it's actually the result of ingenuous green-inspired science - and it's changing the world! Using the machine is simple: Scrape leftover food - cooked and uncooked - right into the removable waste bucket. The FoodCycler will even dispose of bones, pits, shells, meat, and citrus rinds. Place the bucket inside the main unit, lock the lid, and begin processing. Agitators quietly break down the food waste into small particles while it's heated, decomposing and sterilizing the by-product entirely. The unique carbon filter filtration system totally eliminates the odor, making it perfect for indoor use. Once processing is complete, the unit will automatically shut off. At this point you can empty the contents directly into your garden or spread onto your lawn.
Small Machine - Huge Impact!
The process takes as little as three hours and requires no water, chemicals, venting or draining. In the end, you have an organic residual that is a nutrient-rich soil amendment, scientifically proven for optimal vegetation growth. You also have the peace of mind that you're doing something good for the world, and the people in it.
FoodCycler Features
Energy Efficient - Uses less electricity than a small microwave oven. Less than 1 kWh per cycle.
Odorless Technology - Special carbon filters naturally diffuse potent food waste and composting odors.
Quick 3-Hour Cycle - Turn your daily food scraps into natural soil amendment in just one 3 hour cycle.
One Button Activation - Just add your food waste, close the lid and activate the unit. It's that easy.
Compact, Easy to Move - Lightweight and compact, FoodCycler can be moved anywhere - not just the kitchen.
Food Cycler Platinum Indoor Food Recycler and Kitchen Compost Container
Collection bucket
2 x filters
1 year warranty
Processing capacity: 2 - 3lb
Processing time: 2 - 6 hours
Electricity

Max draw: 500W
Approximate consumption per cycle: 1kwh

Dimensions: (W) 16" x (L) 14" x (H) 18.5 "
Weight (packaged): 30lb
Use
FoodCycler SHOULD NOT be used for following items:

Hard bones such as beef bones and pig bones
Candy or gum
Cooking oils or greases
Hard pits (peaches, apricots, nectarines)
Nuts and other hard shells
Shipping for this item is free in the Continental US Lower 48 states only. Shipping Fees include all handling & insurance.
For Domestic Shipping to the Lower 48 States: All shipping prices include shipping, handling and insurance (if necessary).
For Domestic Shipping to Alaska, Hawaii, Puerto Rico, US Territories, APO & FPO: For many items to these destinations there will be an additional shipping fee. The shipping costs may be calculated on the Shipping and Payments tab by entering your Zip Code. Free shipping is for the lower 48 only
For International Shipments: All international orders are managed through eBay's Global Shipping Program. Please see the Shipping Tab for full costs.
Hotels: Unfortunately at this time we do not ship to hotels.
Tax:
Sales tax will be collected on all orders shipped to NY and NJ
Paypal: PayPal is our preferred method of payment for all of our eBay sales. For customer service please contact us through eBay Messages
Immediate payment via PayPal is required for all Buy It Now items. For all Best Offers, payment is required within 3 days. If you need special arrangements, please contact us through eBay messages. After your order has been shipped, you will receive an e-mail with the name of the carrier and the tracking number.
Returns are permitted if you are not satisfied with your purchase and must be initiated by the buyer within 30 days from delivery date.
For Domestic Purchases:
If you are not satisfied with your purchase, you may return it (see exceptions in Paragraph F below), within 30 days of receipt, for a refund or replacement - subject to the following:
a) Contact us through eBay messages or the returns link to receive a Returned Merchandise Authorization (RMA) number to ensure proper handling of the return and/or replacement.
b) In order to be eligible for a full refund, less shipping expenses, your returned merchandise must be in its original new condition, as shipped, with all packaging, manuals, and paperwork intact and unaltered. Items which have been opened are returnable, however they will carry a restocking fee.
c) Customers remain responsible for the shipping and handling expenses incurred in shipping the item to them. If an item is offered with "Free Shipping," this means we are paying the freight on your behalf. If that product is returned for a refund, the shipping expenses incurred, will be deducted from the refund. If an item is refused, the carrier bills us for shipping both ways, and these expenses incurred on your behalf need to be deducted from your refund
d) All returns are subject to inspection. Products returned must be in brand new condition, as per Paragraph b), if not, it may be deemed non-refundable or will be subject to at least a 15% restocking fee. If your return is missing accessory components, or shows signs of wear - restocking fees will be higher. For specific restocking fees that may be applicable to your return, please contact us through eBay messages.
e) Returns should be packed in an outer shipping carton, not just the original box/packing of the product. The RMA# should be clearly inscribed on the shipping label. A copy of your invoice and Order # should be included, and your return should be insured, with shipping costs pre-paid. We cannot accept any COD shipments.
f) There are product categories which are not returnable due to hygienic or sanitary as required by manufacturers. If your items is a consumable good or is has been locked by a manufacturer such as Apple or HP the return will not be accepted
For Warranty information, merchandise lost / any other issues in transit, or order cancellations, please contact us through eBay Messages. In an event where there is an error regarding a price error or description, we will notify you ASAP. In this event there will be no obligation to proceed with the purchase. Any amount charged to the customer will be 100% refunded.
For International Purchases:
Returns will be accepted within 30 days of the receipt of the item. In order to be eligible for a refund your returned merchandise must be in its original unopened condition, as shipped, with all packaging, manuals, and paperwork intact and unaltered. Items removed from their 'blister-pack' display packaging are non-refundable.
International Buyers must pay return shipping via the same method originally shipped.